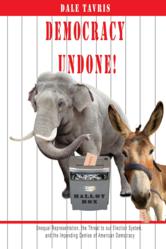 The most important book you could read this November
Los Angeles, CA (PRWEB) October 04, 2012
Political watchdog groups are saying "There could not be a more timely or important book to read this November." The book is Democracy Undone, by epidemiologist Dale Tavris. Originally scheduled for release on October 20, its e-version is available for sale today at Amazon, Barnes and Noble, and the publisher's webstore.
Meticulously researched and referenced, the book is divided into three main parts. The introduction and first chapter show the consequences of the failing democracy in America, from environmental degradation to the growing gap between rich and poor in stark statistics. The second section details evidence of election fraud in 2000 and 2004, discussing such topics as the Florida recount, electronic voting machines, and the "red shift." The final part switches to a big picture showing how corporations have taken control of the country away from the voters.
Executive Director of the Election Defense Alliance Jonathan Simon says, "We have too long individually and collectively been bystanders to a cheap trick with massive political and historical consequences. Dale Tavris has stepped forward boldly from that pack and challenges each of us in our own way to do likewise." He does, because the book ends on a hopeful note--what we can do to spread the word and keep it from happening again.
Reasonably priced, available in all formats, and DRM-free, Democracy Undone is available to all. Read it while there's still time.