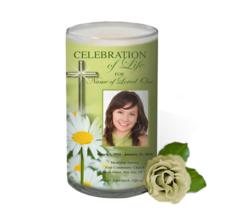 My family was emotional when they arrived and saw how beautiful our father's photo was placed on the product.
San Francisco, CA (PRWEB) October 04, 2012
Lighting a candle can commemorate a memory of a loved one in so many ways. Often it is personal and special for the one who lights the candle in memory of something or someone. It has been proven that lit candles can promote a soothing and calming environment which is why candles sales have been so popular in the recent years.
The Funeral Program Site Superstore has recently added to the existing line of memorial products, photo memorial candles. The selection not only provides tall 3"x9" pillar style candles, but also glass, LED and votives as well. What is special about these candles? The family is able to submit a photograph of a loved one to the company for superimposing onto the candle wax. This produces an end product that not only is usable but offers a visual of the purpose.
In a death, candles are lit within the funeral or memorial ceremony or at the visitation service. It often gives the family more meaning when the candle has a photo of their loved one on the front along with their name and special message. "Our memorial candles are manufactured from our company directly so there is no middleman. Families or funeral homes can come to us and know the savings is great from the start," notes Carole Galassi, CEO and founder.
She further shares "We have designed a special process in how we embed the photograph into the wax of the candle that produces a lovely memorial keepsake. Many families are happy with the candles that they come back to order more for other occasions, such as birthdays!"
The company offers the largest selection of memorial candles specifically geared for funerals and memorials. However, because customers are able to customize up to three lines of print, it can be used for other occasions, if desired.
In addition to the funeral printable funeral program templates, the line of candles adds a nice variety to the products offered at The Funeral Program Site. The glass candles offered are also a hot selling item as families are able to replace the wax section once it has burned down. The LED memorial candles are a great alternative since the outside is made of wax but is flameless. Votives are a great memorial favor that can be distributed to immediate family and/or close friends.
"I purchased ten glass memorial candles from The Funeral Program Site and had them shipped to Hawaii where the funeral was going to be held. My family was emotional when they arrived and saw how beautiful our father's photo was placed on the product," shares Lani from Oakland, California.
The latest selection of new products and templates can be viewed on the company's FuneralProgram-Site.com website for further investigation.