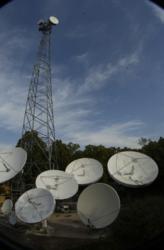 This new offering by Microspace will enable worldwide broadcast quality video communications on a live bi-directional basis, with minimal latency
Raleigh NC (PRWEB) October 04, 2012
Microspace Communications announced today that they will provide IP Video Services powered by LTN Global Communications. Microspace has long been one of the industry's top providers of satellite based content delivery networks for video, audio and data. Embracing fiber and alternative transport services have contributed greatly to the company's continuing growth and success.
LTN employs a worldwide proprietary, highly redundant fully managed IP network that directs traffic and corrects for packet errors on a lower-level physical network to provide professional quality video delivery over the Internet. For its core physical network, LTN utilizes internet connectivity from multiple Tier 1 carriers, ensuring the highest reliability and largest coverage in the industry.
According to Bonnie McNay, Manager of Video Services at Microspace, "We are thrilled to be able to fulfill our clients' requests for both inbound and outbound IP video services over this platform. Our industry can only thrive by embracing the ever expanding menu of services that new technology like this presents."
This new offering by Microspace will enable worldwide broadcast quality video communications on a live bi-directional basis, with minimal latency. LTN services have been utilized extensively by domestic and international clients with extremely high reliability for both SD and HD requirements.
Matthew Coppola, LTN Regional Vice President of Sales, said "As we continue to advance the LTN portfolio of services, we are thrilled to have Microspace on the LTN network, and provide our customers access to the North Carolina media market through the Microspace family of facilities, including its uplink services."
About Microspace Communications. Microspace Communications is a Capitol Broadcasting Company. CBC is a diversified communications company which owns and/or operates WRAL-TV, WRAL Digital, WRAZ-TV, WRAZ Digital, WRAL-FM, WRAL-HD2, WCMC-FM, WCMC-HD1, WDNC-AM, WCMC-HD2, WCMC-HD3, WCLY-AM, WCMC-HD4, Microspace, CBC New Media Group and Wolfpack Sports Properties (a joint venture with Learfield Sports) in Raleigh, NC; WJZY-TV and WMYT-TV in Charlotte, NC; WILM-TV and Sunrise Broadcasting in Wilmington, NC; The Durham Bulls Baseball Club in Durham, NC; and real estate interests including the American Tobacco Project and Diamond View office buildings in Durham, NC.
About LTN Global Communications. LTN was founded in 2007 with the vision to transform the video transport industry. The co-founders' challenge was to solve the quality and reliability issues that impede professional quality video delivery over the Internet. Today, LTN's SmartCloud service is the media industry's catalyst for change. LTN's SmartCloud utilizes a unique global network of intelligent "super-nodes" located in major cities around the world, connected by multi-gigabit per second IP links from Tier 1 carriers. This network allows SmartCloud service to deliver flawless quality, 5 9's reliability, and secure video transport from anywhere in the world to multiple destinations anywhere else in the world instantaneously. http://www.LTNGlobal.com