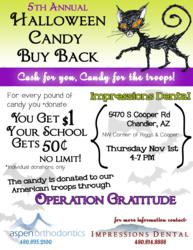 " We are dedicated to supporting our troops."
Impressions Dental
Chandler, AZ; Phoenix-Mesa, AZ; San Antonio, TX; Houston, TX; Philadelphia, PA; Chicago, IL (PRWEB) October 03, 2012
Impressions Dental and Aspen Orthodontics have teamed up for their Fifth Annual Halloween Candy Buy Back event. PageViews Interactive LLC, an SEO marketing company, is assisting with getting the word out for this exciting event. It is scheduled for November 1 from 4 p.m. to 7 p.m. at the office of Impressions Dental. It is there that parents and children can turn sugary candies into cash and prizes.
The duo of Chandler pediatric dentist professionals knows that Halloween is a time for collecting more candy than is good for anyone's teeth. Children with braces have a hard time withstanding the temptation of sticky treats that may actually dislodge some of the wires. Remove the temptation, and save yourself an emergency appointment to fix a broken brace by participating in the Fifth Annual Halloween Candy Buy Back.
To sweeten the deal for the kids, youngsters receive $1 for every pound of candy they hand over. Even the children's schools get a boost. Every pound of candy donated entitles the school of your choice to a $0.50 donation.
The friendly staff at Impressions Dental and Aspen Orthodontics knows that candy buy backs can be bittersweet for children. To make it fun, these professionals are planning a great party for everyone who comes to 5970 South Cooper Road between 4 p.m. and 7 p.m. There will be a balloon artist, a police safety fair for youngsters, free light-up toothbrushes for the kids and even free toys. Chandler's finest has committed to bringing along a patrol car, a sports patrol car and a fire truck. Parents appreciate the opportunity to receive valuable coupons from participating restaurants in the area.
What will happen to all the candy? Impressions Dental and Aspen Orthodontics are in contact with Operation Gratitude to donate all the treats to American troops. While at the Halloween candy buy back, do take the time to have the kids fill out a preprinted thank-you-card for the troops. They love to hear from you and especially your children.
During the first candy buy back, 325 pounds of candy were donated to the troops. In 2010, the amount of donated candy increased to 1,076 pounds, which were enjoyed by American troops around the world. "I cannot express to you how great it feels to come home after a long day of running missions to find a care package full of love sitting on your bunk. You are exhausted from wearing 50 plus pounds of armor for hours on end, then you open the packages, see all that love, and are rejuvenated and ready to face the world again," a Private First Class wrote after receiving an Operation Gratitude care package stuffed with some of the candy.
PageViews Interactive LLC. is a Scottsdale-based SEO company that was founded in 1998. "Our mission is to strive daily to not only be the top Scottsdale SEO company out there but to also be the premier Internet Marketing service provider in the world," a company representative advises. http://www.pageviews.com
Aspen Orthodontics is the office of Stephen Hunsaker, D.D.S., M.S., an orthodontic specialist. Located at 3980 East Riggs Road in Suite 1, this Chandler professional is on the cutting edge of individualized orthodontic care. He specializes in self-ligating brackets that minimize discomfort and instead speed up the process of dental alignments. Call Aspen Orthodontics for an appointment at (480) 895-2100.
Impressions Dental is located at 5970 South Cooper Road in Suite 1. A Chandler family and cosmetic dentistry practice, Impressions Dental serves adults and children from Chandler, Gilbert, Phoenix and Sun Lakes. Doctors Brigham Baker and Tye Thompson specialize in pediatric and adult dentistry, basic checkups and specialty services such as digital x-rays, Zoom teeth whitening, Invisalign fittings, implants, Same Day Crowns and periodontal therapy. Call Impressions Dental today at (480) 814-8888 to set up an appointment. http://www.impressdental.com