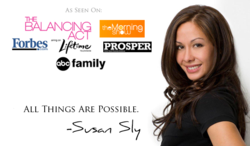 Your health is the greatest blessing you can have... During our Power Body Weekend, we will teach you how to love yourself, eat for nutrition, break negative habits, learn positive self talk, and make peace with your body
Toronto, Canada (PRWEB) October 03, 2012
Dr. Cara Flamer, a Family Physician who specializes in hormone optimization using natural hormones, is scheduled to speak at Susan Sly's Power Body Weekend on October 19-21, 2012, in Toronto, Canada. For more information on this event, please visit the website, http://www.susansly.com/events/the-power-body-weekend/.
Dr. Flamer's primary passion is to empower people to awaken their own inner healer. Her understanding of the various levels of healing- physical, emotional, and energetic- enable her to blend western medicine with various complementary modalities, including energy medicine, naturopathic medicine and mind-body connection.
"She is guided by her belief that we are all able to create healing in our lives, once given the appropriate dose of inspiration, motivation, knowledge, and tools for change," says Susan Sly, creator of 'The Shift' audio meditation series and host of the event. "Her belief is to support the body through its journey in life through all means available. These include: supplementation, medications as necessary, hormone replacement, exercise and nutrition programs, and energetic techniques."
Dr. Flamer will also join Deborah Wright and Camille Lawson as special guest instructors.
"Your health is the greatest blessing you can have," says Ms. Sly. "When you are healthy, you are able to do all things with greater effectiveness. During our Power Body Weekend, we will teach you how to love yourself, eat for nutrition, break negative habits, learn positive self talk, and make peace with your body. If you are ready to transform, then you deserve to attend our workshop in October."
The goal of the Power Body Weekend is to provide an opportunity for women with a passion and desire for change to be able to learn how to live a healthy lifestyle.
The Power Body Weekend will be covering some of the following topics:

Learn about imbalances in your body vs. illness and what to do about them
Become empowered to take responsibility as a health advocate and find collaborative health practitioners
Advanced training about hormones – the key to vibrant health
Explore sexuality in a safe, fun, and comfortable environment
Discover the links between psychological ways of being and relationships
Learn the Processes of Lasting Change and how to make them work for life intentions
For more information on this event, please visit http://www.susansly.com/events/the-power-body-weekend/.
About Susan Sly: Susan Sly is a renowned author, speaker and trainer with over 20 years of experience in the industry of health and nutrition. Susan has guest lectured at universities and colleges and has also appeared on both television and radio. She spent over a decade as a certified personal trainer and nutrition specialist working with athletes, celebrities and physicians to assist them in creating optimal health. Participants love Susan's direct approach and her ability to inspire women to find the answers from within.