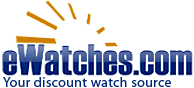 We are delighted to add Evisu watches to our designer watch offering...Evisu has a long, solid reputation for style, innovation, and extraordinary attention to detail
Hollywood, FL (PRWEB) October 03, 2012
eWatches, a leading internet retailer of discount designer watches, announced today it has extended its offering to include the Evisu brand of designer watches. The move comes as the company's demographic grows to include an increasing number of young, trendy, social media savvy customers.
Evisu, founded by designer Hidehiko Yamane in Osaka Japan during 1991, originated as a designer clothing line focused primarily on meticulously tailored denim jeans—at one point the company only allowed for fourteen pairs to be made per day, featuring the company's seagull motif, hand-painted on each pair by Yamane himself. It quickly grew to a premier brand featuring more types of apparel, and eventually watches. It was the company's philosophy to design a line of watches that would complete the Evisu look by complementing it.
"We are delighted to add Evisu watches to our designer watch offering," said Russell Ackner, VP of marketing, The SWI Group. "Evisu has a long, solid reputation for style, innovation, and extraordinary attention to detail," he continued. "We are seeing more and more young people shop our site and that's probably due in large part to our social media efforts. We want to offer every customer what they want—whether it's a tried, trusted, conservative look, like a Seiko, or a stylish and contemporary look like an Evisu, we want to satisfy customers of all ages.
The Evisu line of designer watches includes several attractive collections, including the Evisu Masa and Evisu Ebi-Grand lines. Certain watches in the line, such as the Evisu Shirasee in rose gold tone and stainless steel, feature the company's signature seagull logo with Japanese characters on the dial.
eWatches also features a robust selection of discount designer watches from other mid- to high-end brands, including Swiss Legend, Lucien Piccard, Glam Rock, and Swiss Army watches, to name just a small sampling. As always, eWatches features free shipping on watches every day.
About eWatches.
eWatches.com is an award-winning internet retailer of brand-name watches serving tens of thousands of satisfied customers since the company's inception in 2003. In both 2007 and 2008, Inc. Magazine selected eWatches.com as one of 'America's 500 Fastest Growing Companies' in its annual Inc. 500 list. eWatches provides a superior shopping experience to its customers with:

Free Shipping on all domestic orders
100% Satisfaction Guarantee
Low Price Guarantee
30 Day Money Back Guarantee
To get the 411 follow eWatches on Facebook and Twitter at 'ewatchescom'.