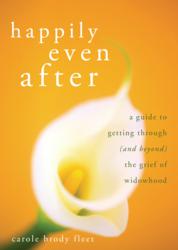 This book will be invaluable to those so badly in need."
—Lee Woodruff, contributor to CBS This Morning
(PRWEB) October 03, 2012
Quickly becoming the "national face of widowhood," Carole Brody Fleet, founder and CEO of Widows Wear Stilettos, has become to the go-to person for comfort, wisdom, and support both for widows and those who help them.
In a recent Huffington Post article, she gave some useful advice: Loyalty v. Living Again: Are you Being 'Disloyal?'. Her posts have been some of the most commented and highly ranked articles on HuffPo.
She also did a video with State Farm to spread the word about being financially prepared for whatever may come. This video has come out to thousands of agents all over North America to help families during the most difficult time.
You can hear Carole speak her message of hope and healing at these events:
10/4/12: Special Ops Survivors Conference, San Diego, CA
Fleet is working with the widowed of those who served in the military in Special Operations Details post-9/11 at the request of the Navy SEALS. She is the keynote speaker on the topic of turning hurt into hope and tragedy into triumph.
4/18/13: Camp Widow East Coast, Myrtle Beach, SC
6/28/113: Camp Widow West Coast, San Diego, CA
About the author:
Carole Brody Fleet is Founder and Chief Executive Officer of Widows Wear Stilettos, Inc. Widely recognized as a leader and expert in the areas of grief and loss recovery, Ms. Fleet is a regular guest on national and international TV and radio shows. She has been featured in many magazines, newspapers and websites, and is recipient of the Embrace Life Award from State Farm Insurance Companies and the Board of Directors Outstanding Service Award from the Soaring Spirits Loss Foundation.
Viva Editions: Books for Inspired Living
Viva books open hearts and minds. Viva authors are practical visionaries: people who offer deep wisdom in a hopeful and helpful manner. You can be frugal AND fabulous. You can be thankful for what you have. You can take risks and achieve your long-held dreams. Your relationships can be better than ever. And, you can simply have more fun. You can take a leap of faith and change your life, knowing it is never too late for positive action.