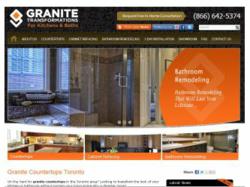 The Granite Transformations website exceeded the competition's average scoring across the board
Milton, ON (PRWEB) October 04, 2012
WSI Milton has a proven track record for increasing client visibility and driving profits through the creation of highly effective and attractive websites. This stellar reputation has recently been reinforced by the Web Marketing Association.
At the 16th Annual WebAwards, the digital marketing firm was recognized with the Standard of Excellence award for Home Building Websites. All awards recognizing outstanding achievement in web development are viewable at webaward.org.
Cabinet and counter remodeling company Granite Transformations boasts an impressive website. The content is informative and succinct, and it clearly articulates the benefits of their products and services to the homeowner. It is aesthetically pleasing, showcasing beautiful images of the company's work, and navigation is intuitive and easy, with a logical flow. Its exceptional quality becomes even more obvious when compared with other web pages from the same industry category.
The team at WSI Milton, led by digital marketing consultants Jason and Denise Gervais, is proud to have created the award winning online presence of the Granite Transformations brand. Their low cost, high return on investment web design has not only earned Granite Transformations publicity for their site through recognition from the Web Marketing Association. It has also significantly increased the countertop retailer and installer's revenue, and improved their search engine ranking. Ensuring that local consumers who are using the internet to locate specific products and services are finding their clients first is an important component of WSI's overall internet marketing strategy.
The Web Marketing Association judges web pages on seven criteria. Sites that are recognized by the association must contain appealing design, innovation, valuable and relevant content, and appropriate use of technology. In addition, outstanding sites should possess components of interactivity, and should be extremely user friendly. Finally, the site's copywriting is ranked on its level of effectiveness. The Granite Transformations website exceeded the competition's average scoring across the board.
As the recipient of the WebAward, the WSI Milton team continues to earn their status as provider of the best web design in Oakville. In addition to developing and designing websites, they offer a full range on internet marketing services, including: pay per click advertising, email marketing, social media management and training, copywriting, and analytics. To learn more about online marketing, come to a free internet marketing seminar.
WSI Milton is a subsidiary of WSI, the world's premier internet franchise that offers online marketing services to small and medium-sized businesses. Through applying their expertise in internet marketing, the WSI Milton team has helped numerous businesses benefit from a well crafted online presence.