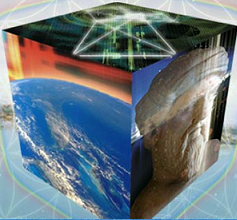 The Global Event of the Year
Elizabeth, Indiana (PRWEB) October 02, 2012
Pythagoras Conference Global Galactic Convergence 2012, a highly unique global annual event to be held this year – October 10, 11, 12, 13, and 14 – at The Horseshoe Southern Indiana, the prestigious hotel and casino venue located in Elizabeth, Indiana, right outside Louisville, Kentucky in the United States of America.
Pythagoras Conference Global Galactic Convergence 2012 represents a global think tank and will be presenting over twenty of the world's top speakers and experts in New Physics, Time Control Science, Archeology, Renewable Energy, ExoPolitics, Cosmic Cultures, New Education, Social Science & Bio Economics, Consciousness Studies, Astropaleology and Metaphysics, just to start. They will be coming together with a common goal of creating real change for the future of Humanity. Presenting at this global conference will be some of the world top experts, educators, and authors in these fields.
This Conference's concept is truly unique as there is no other event that has tried to bring such a diverse group of people together in this way. Pythagoras himself is often revered as a great mathematician, mystic and scientist and is best known for the Pythagorean Theorem; he was also a great seeker of knowledge. "This is the under-current of this new Global Conference, bringing the best speakers in their respectable fields together to share their knowledge with others also seeking answers to their own inner questions," -- says Sandra D. Sabatini, event creator. What is the truth? And just how can we create real change with this knowledge that we learn?
Pythagoras Conference Global Galactic Convergence 2012 will feature these Guest Speakers, VIP Workshop Presenters and Special Guests:
Lecture Topics:
"Many Topics Discussed In The Public For The First Time Ever!"
Sandra D. Sabatini, Msc.D. Key note address: "The Future is listening"
Featured Guest Speakers Include
Dr. David Lewis Anderson "Time Control Science",
Princess Kaoru Nakamaru of Japan "Important Information to Know in 2012",
Dr. Florin Munteanu "Revisiting Lost Sciences using Complexity Paradigm",
Dr. Edward R. Close "Paradigm-Shattering theory in Physics",
Heather A. Caton, MSW "The Need for New Education for Youth: Universities of Tomorrow",
Dr. A. R. Bordon & The LPG GROUP "Life Physics: Time, Extended Human Functions, Interface with Extraterrestrials",
Neil Freer "Sapiens Rising: Our Cosmic Connections",
Suzanne Taylor "Crop Circles : What on Earth Movie screening",
Chelsea Flor "Sacred Cycles - God Particle - Geometry - & Wisdom of The Ages",
Clifford Mahooty "Zunni Wisdom: Ancient Understanding for Future Generations",
LPG Group "Time Reversal, Extended Human Functions, Interface with Extraterrestrials",
Antoine Gigal "The Divine Island of Giza & The Secrets of the Hathor Temple of Memphis",
Dr. Sam Semir Osmanagich "The Bosnian Pyramid & Hidden Mysteries",
Michael Tellinger "The Lost Civilization of Southern Africa, Contributionism",
Peter Moon "Montauk Project & Connections Through Time",
Dr. Brooks Agnew "Remembering the Future: The Physics of the Soul and Time Travel",
Mark Amaru Pinkham & Andrea Pinkham "World Gnosis: The Coming Gnostic Civilization and The Return of the Serpents of Wisdom",
Joshua Shapiro "The Crystal Skulls - A Key Ancient Tool for World Peace",
Liesbeth Pankaja & Kandhan Raja Deekshithar "Sphinx of India Mystery and Insights",
Joseph Mathney "The Evolution of the Mythical Elements of Time Travel, Parallel Dimensions, and The "Other",
Farah Yurdozu "The Ancient Civilizations of Turkey, Language of Symbols, Star Gates and Cosmic Cultures",
Jan Peter DeJong "The Cosmogony of the 3 Worlds",
Jesus Gamara "Capital of Atlantis",
Hugh Newman "Earth Grids and more!",
Paul D. Burley "Universal Sacred Symbolism Expressed by the Native American Lifeway",
Kerry Cassidy "'Humanity- Get off your Knees!",
Eduardo Herran "Naza Lines of PERU & World Heritage Sites"
Workshop Speakers Include
Richard Siena "Nerve Induction",
Brooks Agnew "To be announced",
Mark Pinkham
Musical Guests Include
Michael Lee Hill (recording artist) Classic Rock,
Emily Palen (recording artist) Multi-dimensional Music via Violin,
Chelsea Flor Folk Fusion
Why Should You Come?
Imagine a place where you are immersed in participating, hearing, seeing the "Truth" about subjects you always had in the back of your mind finally answered. Now imagine creating solutions and taking action upon hearing "the Truth" — how you can make a change — joining with us in a unified common mission of creating real change for the "Future of Humanity."event.
We thank you and invite you to visit the official web site http://www.PythagorasConferenceGlobal.com to learn more about ways you can support and purchase your tickets for this amazing event today. Tickets are available now at: http://Pythagorasconference.eventbrite.com/
Find us on Facebook: http://www.Facebook.com/PythagorasConference,
Twitter: http://www.Twitter.com/PythagorasCon, and YouTube: http://www.Youtube.com/PythagorasConference .
For all press or media requests, please contact:
PCG Media, LLC.
ATTN: Sarah M. Jones, Media Relations Manager
Phone: (502) 272-0130/ Fax: (413) 328-6227
E-Mail: Info (at) PythagorasConference (Dot) com