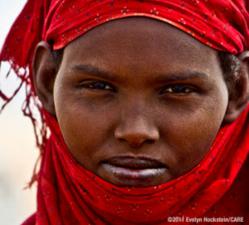 We will not rest until the U.S. commits to taking a leadership role in ending child marriage and supporting married adolescents once and for all.
Atlanta, GA (PRWEB) October 04, 2012
The global poverty-fighting organization CARE has launched a campaign to help end child marriage and is calling on the U.S. government to make combating early marriage a priority on the first International Day of the Girl.
The United Nation's first day dedicated to girls falls on October 11 — just one week from today — and CARE is urging its advocates to sign a letter asking Secretary of State Hillary Clinton to increase political and financial commitments to end child marriage and support married adolescents. Already, several thousand supporters have signed the petition.
"I encourage anyone interested in making a difference in the lives of the poor around the world to take part in this campaign," said Erin Kennedy, advocacy technical advisor for CARE's Gender and Empowerment Unit. "By signing our letter to Secretary of State Clinton you will demonstrate that there is a constituency here in the United States that cares about child marriage. We will not rest until the U.S. commits to taking a leadership role in ending child marriage and supporting married adolescents once and for all."
The CARE campaign, part of the Girls Not Brides global partnership, will culminate on the International Day of the Girl, which is also CARE's sixth annual National Day of Action. On October 11, events will be held around the world to promote solidarity with girls, people and communities who struggle with extreme poverty and injustices, such as child marriage.
In many of the world's poorest countries, girls are more likely to marry before the age of 18 than finish secondary school. In fact, about 25,000 girls become child brides each day. The ripple effects are devastating for the girls and their communities. Child brides are twice as likely to be beaten by their husbands and contract diseases, such as HIV, from these often much-older men. These girls also have a significantly higher risk of dying during pregnancy and childbirth than women in their 20s. Child marriage drastically reduces the number of girls receiving education in developing countries — ultimately preventing girls and women from lifting themselves and their communities out of poverty.
"Early marriage is most prevalent in communities suffering deep, chronic poverty," said CARE President and CEO Helene Gayle. "Governments, aid organizations and donors need to deepen their understanding of the link between poverty and early marriage. We also need to work together with community-based organizations to support efforts that empower adolescent girls with access to social and health services, as well as knowledge of their own human rights."
Around the world, CARE has programs that work with families, communities and local organizations to reduce the prevalence of child marriage, and mitigate its harmful effects. In addition, CARE works with communities to help eradicate the practice, by helping change local laws and building the capacity of communities to change social norms.
In Ethiopia, CARE, the Nike Foundation and other partners are helping 5,000 married adolescent girls learn about sexual and reproductive health issues that can help them make better informed decisions for themselves and their families. They have also helped the girls gain life skills through economic empowerment programs so that the girls can lead a dignified and self-sufficient life.
CARE also focuses on increasing girls' education, which has a direct link to reducing the prevalence of child marriage: Girls who complete secondary school are six times less likely to become child brides.
For instance, CARE is working with Credit Suisse to build a community-based secondary school and improve the infrastructure of other schools in Tanzania. The program has increased access to education for more than 3,500 girls in rural areas at risk of child marriage. The program has achieved important results. By October 2011, girls' enrollment in schools had risen by 62 percent compared to the year prior.
About CARE: Founded in 1945 with the creation of the CARE Package, CARE is a leading humanitarian organization fighting global poverty. CARE places special focus on working alongside poor girls and women because, equipped with the proper resources, they have the power to lift whole families and entire communities out of poverty. Last year CARE worked in 84 countries and reached 122 million people around the world. To learn more, visit http://www.care.org.
Media Contacts:
Nicole Harris, CARE, nharris(at)care(dot)org, 1.404.979.9503, 1.404.735.0871
Brian Feagans, CARE, bfeagans(at)care(dot)org, +1.404.979.9453, +1.404.457.4644