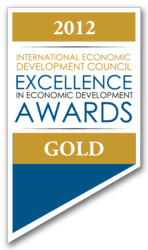 Madison, WI (PRWEB) October 03, 2012
Ady Voltedge received a Gold Excellence in Economic Development Award for their Economic Development| Washington County Website Development in the category of General Purpose Website for communities with populations of 25,000 - 200,000 from the International Economic Development Council (IEDC).
The honor was presented at an awards ceremony on Tuesday, October 2, during the IEDC Annual Conference, which is being held September 30 – October 3 in Houston, Texas.
"We recognize Ady Voltedge for creating innovative and successful strategies to promote economic development in this period of global recovery," said Jay Moon, IEDC chair. "Our awards honor organizations and individuals for their efforts in creating positive change in communities. Ady Voltedge demonstrates that they are at the forefront of the economic development profession and are using cutting-edge, effective practices that can be replicated in other communities."
Economic Development | Washington County, located just northwest of Milwaukee, had been experiencing rapid population and economic growth when it hired Ady Voltedge to completely rethink and redo its website. The new website redesign included a brand board, a new logo, brochures and business cards. The new website, http://www.businessreadywi.com, featured many components that increased the site's interactivity and usability.
The VoltEdit Content Management System, which drives the website, makes it easy for EDWC to update its website. In fact, it's as easy as finding the page you want to edit and clicking on the text. Christian Tscheschlok, executive director of EDWC, said that the system's ease of use makes the important task of updating a website very simple.
"Website visitors seem to very quickly take ownership of their online experience with us. Since launching the website in February, we have noticed that not only has the project success rate improved but the time it takes for a project in our pipeline to successfully go from inquiry to new jobs and investment has been become shorter. Businesses and prospects have used the website to quickly and uniquely gain confidence in how Washington County and its communities support successful project outcomes both short and long-term." –Christian Tscheschlok, Executive Director, Economic Development Washington County
IEDC's Excellence in Economic Development Awards recognize the world's best economic development programs and partnerships, marketing materials, and the year's most influential leaders. These awards honor organizations and individuals for their efforts in creating positive change in urban, suburban, and rural communities.
About the International Economic Development Council
The International Economic Development Council (IEDC) is the world's largest independent non-profit membership and research organization devoted exclusively to the field of economic development. IEDC helps economic development professionals create high-quality jobs, develop vibrant communities and improve the quality of life in their regions. Serving more than 4,400 members, IEDC provides a diverse range of services including conferences, professional development and certification, publications, research, advisory services, and legislative tracking. Visit http://www.iedconline.org.
About Ady Voltedge
Ady Voltedge is an economic development marketing firm that helps community and economic development organizations retain, grow, and attract residents and businesses to its city or region. Based in Madison, Wis., Ady Voltedge's clients include economic development organizations, convention and visitors' bureaus, chambers, and municipalities as well as utilities, associations, cooperatives, state agencies and private companies.