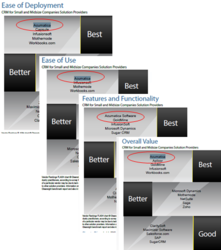 To receive top rankings in all four categories is proof that Acumatica...is also a top-ranked CRM solution for small businesses.
McLean, VA (PRWEB) October 03, 2012
Acumatica, a leading provider of cloud enterprise resource planning (ERP) and financial software, announced today that its CRM Suite received top rankings across the board in Gleanster's newest CRM for Small and Midsized Businesses benchmark report.
Gleanster's Gleansight October 2012 report evaluated 35 CRM vendors in four categories: Ease of Deployment, Ease of Use, Features and Functionality, and Overall Value. The twelve top firms in each category were ranked from "Good" to "Better" to "Best." Acumatica received "Best" rankings in all four categories, as indicated in the Vendor Rankings FLASH chart © Gleanster, October 2012.
"It's quite an honor to receive a single "Best" ranking in any given category of a top benchmark CRM report," said Ezequiel Steiner, CEO of Acumatica. "To receive top rankings in all four categories is proof that Acumatica is a not only a highly-rated integrated ERP solution with award-winning financials, but also a top-ranked CRM solution for small and midsized businesses."
About the Gleanster Benchmark Methodology
Like all Gleanster research findings, the FLASH charts represent the experiences of hundreds of qualified survey respondents, not analyst assessment or opinion," said Ian Michiels, Principal Analyst at Gleanster. ""Top scoring vendors are then assigned to the FLASH charts on a rank order basis after meeting a verifiable threshold of participation from current or previous customers. All solution providers included in the Vendor Landscape are given an opportunity to invite their customers to participate in the survey. Through no other means are solution providers allowed to influence their placement on these FLASH charts."
Download the entire October 2012 Gleanster Gleansight CRM for SMBs report here: http://www.gleanster.com/reports/reports/crm-for-small-and-midsize-businesses
About Acumatica
Acumatica is a leading cloud ERP and CRM software vendor that delivers the benefits of Cloud and SaaS without sacrificing customization, control, security, or speed. Acumatica can be deployed on premise, hosted at a datacenter, or run on a Cloud computing platform. Learn more about Acumatica's Cloud ERP solution at http://www.acumatica.com.