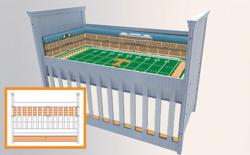 Imagine putting your child to sleep on the 50 yard line of your favorite college football stadium.
Atlanta, Georgia (PRWEB) October 03, 2012
Stadium Cribs, makers of fine custom baby bedding announced the addition of two new college stadiums to their custom college baby bedding line of products. Stadium Cribs custom baby bedding crib sets turn any normal baby crib into your favorite college football stadium. Stadium Cribs puts LSU and Ole Miss into play for football season.
"Adding LSU and Ole Miss to the Stadium Cribs Family is really exciting in many ways," Says Lyle Richardson of Stadium Cribs, "Both of these new stadiums are rich in history and look great as a finished baby bedding product."
College football fans can now show their support for their favorite team with custom college baby bedding that resembles their favorite college stadium. Stadium Cribs Baby Bedding features highly realistic stylized images from college football stadiums and is made from the highest quality materials. Stadium Cribs baby bedding sets are made in the USA.
Stadium Cribs Custom Baby Bedding allows College Football fans one more place to showcase their favorite team. Stadium Cribs can make the dream of falling asleep on the 50 yard line a reality with several stadiums to choose from.
About Stadium Cribs
Stadium Cribs Was founded in January of 2012 when two old friends decided that the world needed licensed custom designer baby bedding that both the mother and father adore. Marietta Georgia native Lyle Richardson and Kevin Kruger amongst many others have been working ever so diligently to bring Stadium Cribs to the fans and alumni that would without a doubt love our product. Stadium Cribs makes their entire baby bedding sets to order. Each set is custom sewn here in America. All ink used in our printing is of course certified baby safe. Our level of quality in sewing, printing and embroidery is based on a commitment by everyone involved in the process of making this product to do impeccable work, as the safety of people's children has always been and always will be a major concern of our company.