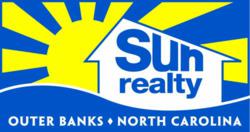 Our owners are our best ambassadors. We manage their homes and produce results to exceed their expectations
Kill Devil Hills, NC (PRWEB) October 03, 2012
Sun Realty, the largest vacation rental company located on the Outer Banks of North Carolina, is in the midst of a busy listing season. The new inventory of fine vacation rental homes will join the more than 1100 Outer Banks vacation rentals currently managed by Sun Realty. With strong pre-bookings already in place, the company is looking forward a fantastic start to the summer 2013 vacation season.
During the summer and into fall vacation seasons, Outer Banks vacation rental homeowners review their management contracts, reflect on the past year's numbers and support from their current management company, and make decisions about the upcoming year. For some, this may mean switching to a different vacation rental management company they feel will better represent their beach investment.
Sun Realty manages North Carolina family beach homes from the four-wheel drive area of Corolla, NC, to the end of Hatteras Island. With 6 local Outer Banks offices, homeowners are more at ease knowing that their valuable investment is being managed by local and reliable staff.
Many OBX vacation rental homeowners do not live on the Outer Banks, so they rely on the vacation rental management company to care for their property as if it were their own. Sun Realty provides their owners with a dedicated point of contact in their local office who communicates with the owner directly.
During the 2012 and 2013 listing seasons, Sun Realty is also seeing an increase in luxury high-end vacation rental homes. Sun Realty's more than 30 years of vacation rental management experience is appealing to luxury homeowners considering these services. Offering a well-trained maintenance and housekeeping staff is key as well. Sun Realty SR. V.P. Janice Farr says, "Our owners are our best ambassadors. We manage their homes and produce results to exceed their expectations and they tell their neighbors. This is especially true for our high-end owners. They really need to feel that their home and guests are getting top-notch service and management."
Sun Realty's strong brand presence and managing power are attractive benefits to luxury homeowners when it comes to their ROI (Return on Investment) and bottom line. The results are in the consistently high number of reservations annually. Sun Realty's marketing team works diligently to keep the company's website at the top of the search engines, featured in premier OBX vacation publications, as well as exposure on the most popular vacation travel websites. The Sun Realty website is easy to navigate, and offers large, high-resolution photography of the Outer Banks vacation homes. The website also offers user-friendly options such as convenient online booking and a live, online chat feature. Sun Realty is also the only OBX, North Carolina company to employ a year round, local call center to answer guests inquiries, Mon - Fri 8:30am - 9:00pm, and Sat & Sun from 8:30am - 05:30pm.
Sun Realty offers the managing power of a large company, with the personal attention of a local office. Call Sun Realty at 855-782-9786 to learn more about The Sun Realty Advantage Property Management Program or visit http://www.SunRealtyNC.com. Sun Realty offers property management, real estate sales and vacation rentals in 7 locations on the Outer Banks of North Carolina.