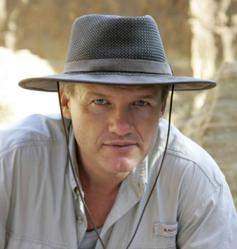 The pyramids are proof that our ancestors knew and worked with an energy technology that we are now finally able to measure, but are still short of fully understanding.
Houston, TX (PRWEB) October 02, 2012
Radiocarbon dating that proves the Bosnian Pyramid Complex dates back at least 25,000 years has been revealed by an international team of scientists led by Dr. Sam Osmanagich. Discovered in 2005, the Bosnian Pyramid of the Sun Archaeological Park, which houses the largest pyramid in the world, is now the most active archaeological site on the planet. The team's findings also reveal an energy beam, 13 feet in radius that transmits an unexplainable electromagnetic signal measuring 28 kilohertz coming from the center of the Pyramid of the Sun. This phenomenon has been independently confirmed by physicist Dr. Slobodan Mizdrak, Ph.D. from Croatia, professor Paolo Debertolis, anthropologist from University of Trieste in Italy, sound engineer Heikki Savolainen from Finland and electrical engineer GoranMarjanovic from Serbia.
The energy beam is theorized by Dr. Osmanagich as the reason the pyramids were built; to provide ancient civilizations a powerful source of clean energy. This is already a widely supported theory set forth by the book "The Giza Power Plant" by Christopher Dunn published in 1998. The Bosnian Pyramid of the Sun is 30% larger than the largest pyramid at Giza and recent excavation has uncovered an extensive pre-historical underground labyrinth system, further evidence supporting the power plant theory.
Is it possible that the fossil fuel based energy system we now rely on could have been prevented if inventor Nicola Tesla's work on free energy hadn't been suppressed? Tesla's (1856-1943) patented free energy methods were rejected due to their inability to be metered and monetized. "We urgently need to change our mistaken point of view that our ancestors were stupid and accept that they had an advanced understanding of the fabric of nature and the universe, just like Nikola Tesla, whose ideas were suppressed as they did not and do not fit in the reigning economic model," states Phillip Coppens, author and investigative journalist. "The pyramids are proof that our ancestors knew and worked with an energy technology that we are now finally able to measure, but are still short of fully understanding."Coppens along with Klaus Dona of Austria and dozens of speakers attended the International Conference Bosnia Pyramid in Sarajevo, Bosnia-Herzegovina which is held annually to release findings to the public.
The method commonly used to record dates of artifacts and structures is radiocarbon dating which can accurately record dates back 58,000 years. It was pioneered in 1949 at the University of Chicago by William Libby who has since been awarded the Nobel Prize in Chemistry for his work.Italian archaeologists Dr. Ricarrdo Brett and NiccoloBisconti discovered an organic material on the top of the concrete blocks that cover the Bosnian Pyramid of the Sun. Carbon dating was performed in the Lab in Kiev, Ukraine with astonishing results: 24,800 years +/- 200 years which gives the minimum age of the pyramid structure.
Overwhelming evidence, supported by scientific research from all over the archeological community proves that our recorded history is wrong concerning ancient cultures which in turn changes religion, science and academics.The pyramid structures that were built in Bosnia and across the globe over 10,000 years ago cannot be duplicated by modern science and machinery in the 21st century and there is no explanation for who could have built them in our recorded history.
"We realize that this site changes our knowledge of history and as such the findings will need to withstand harsh scrutiny. Our inter-disciplinary scientific team carefully utilizes legitimate scientific research methodology, often having tests done from two or more separate laboratories," explained Dr. Osmanagich, PhD. "Despite some initial skepticism, we now have a world-wide team of hundreds of thought leaders from numerous scientific disciplines including archeologists, geophysicists, chemical engineers, physicists, electrical engineers, and mathematicians gathering scientific evidence to find the answers."
The reason the Bosnian Archaelogical Park is so active is that unlike the Egyptian Pyramids and Dr. Zahi Hawass' team, where access to information was carefully guarded, this site's policy is open and inviting. "We want to share our findings in order to bring out the truth about history and knowledge of clean energy," explains Osmanagich.
About the Webinar
The New Era Times will present a free 3 Day Webinar—October 3, 4, and 8 at 7pm—where "Pyramids Around the World" will be showcased by Dr. Sam Osmanagich as well as the latest findings of the Bosnian Pyramid Archeological site. Dr. Sam will discuss how pyramids have now been found on every continent on Earth and prove—beyond a shadow of a doubt—that pyramids were built by ancient civilizations with far greater technology than we now possess and that they were used to produce energy. The placement of the tens of thousands of pyramids around the globe on the earth's energy grid, aligned with the universal energy field is a lost science that is now being rediscovered. This science can only be explained when we reexamine much of what we have been taught about history and open our minds to unfold the truth.
Dr. Osmanagich will also be giving a free lecture open to the public on Oct 7, 2012 at 2pm at the Hilton Southwest in Houston, Texas. For more information, contact Debbie West, 774-278-0091 westdeb7(at)gmail(dot)com