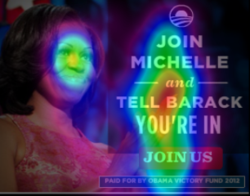 ad agencies are fervently working towards optimizing the performance of online display through discovering effective use of catch phrases and bullet points
New York, NY (PRWEB) October 26, 2012
Cognitive Match, a leading provider of Dynamic Creative Optimization, today announced the results of a survey evaluating the consumption of online display ads by young, single, working professionals, ages 22-33, organized by Lisa Villano, Cognitive Match's Client Manager.
This group was selected because it represents a now mature generation that was strategic to Obama's first term election. In 2008, Obama captured 66% of the youth vote (ages 18-29) according to Pew Research Center for the People & the Press, a Washington based independent opinion research group studying attitudes toward the press, politics and public policy issues. The study is conducted by monitoring participants' focus as they view online display ads, averaging the results in a cumulative heat map (see images below).
During this very moment, ad agencies are fervently working towards optimizing the performance of online display through discovering effective use of catch phrases and bullet points. Besides buzz words like economy and jobs, we have found that 14% more females than males concentrated on the phrase "banning all abortions". The heat maps illustrated that men's focus gravitated towards the dollarization of the tax increases at twice the rate of women. This may not come as a surprise with the gender stereotypes that exist within our society; but this is tremendously insightful if an agency can serve an impression powered by BIG DATA, helping to reach the right voter with the right message.
"The surprising results of our survey reflect the current trend in overall digital marketing towards creating messaging more likely to resonate with an individual consumer over a generic target audience. This highlights the future of political marketing as candidates and their teams consider tailoring message to maximize impact at the voter level," noted Jacob Ajwani, VP, Strategic Accounts, Cognitive Match, "much as leading brands have been doing at an increasing pace"
About Cognitive Match
Founded in 2009, Cognitive Match is the world's leading provider of Dynamic Creative Optimization; changing the online experience for both advertisers and consumers by eliminating generic ads and utilizing various content libraries that are tailored to individuals. Cognitive Match works with top agencies, advertisers and publishers – helping companies like the Guardian, Financial Times, Steve Madden and Net-A-Porter maximize the return on their digital marketing spend. The company recently won the TechCrunch Europa Award for Best Advertising & Marketing Technology.
For more information about Cognitive Match, please visit http://www.cognitivematch.com