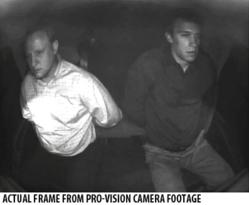 ...captures a 160 degree view allowing unmatched door-to-door coverage day or night.
Byron Center, MI (PRWEB) October 05, 2012
PRO-VISION® Video Systems recently released the Remote Night Vision Module that combined with their VLC Series™ Super Wide Angle Camera deliver the Police In-Car Video industry's leading rear seat view. The Night Vision Module utilizes 16 LEDs that illuminate infrared light during low light conditions to create a clear picture that allows law enforcement agencies to capture an incarcerated person's actions in the rear of the vehicle. The Super Wide Angle lens from the VLC Series™ camera captures a 160 degree view allowing unmatched door-to-door coverage day or night.
Combining this industry leading coverage with a PRO-VISION law enforcement in-car video system provides law enforcement agencies with the evidence they need to exonerate officers and prosecute criminals. The entire system is equipped with an unmatched 5 year system warranty. PRO-VISION Solid-State DVR systems support four cameras, and four channels of audio. The company also delivers the most rugged, reliable selection of cameras in the industry.
About PRO-VISION – In 2003, PRO-VISION was incorporated and started by supplying back-up camera systems. 2005 marked their entry into the School Bus market. By 2009, PRO-VISION had entered the Commercial Recording System market, released 4 Camera School Bus Systems, and allowed for Live Video Viewing and Video File Transfer. By 2011, the company had expanded into a 240% larger facility and entered the law enforcement recording system market. The company has expanded to the international market selling systems into countries such as South Africa, Great Britain, Australia, Mexico, and Brazil, to name a few. PRO-VISION is ranked in the top 100 for manufacturing firms on the Inc. 5000 list of the fastest growing private companies in the US for 2012, and also earned a spot on the list in 2011. PRO-VISION is the only video system manufacturer on the list in both 2011 and 2012.