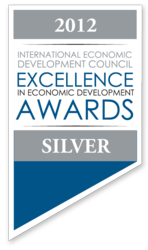 We recognize The Right Place, Inc. for creating innovative and successful strategies to promote economic development in this period of global recovery
Grand Rapids, MI (PRWEB) October 02, 2012
The Right Place, Inc. received a Silver Excellence in Economic Development Award for their 2011 Annual Report in the category of Annual Report for communities with populations of greater than 500,000 from the International Economic Development Council (IEDC).
The honor was presented at an awards ceremony on Tuesday, October 2, during the IEDC Annual Conference, which is being held September 30 – October 3 in Houston, Texas.
"We recognize The Right Place, Inc. for creating innovative and successful strategies to promote economic development in this period of global recovery," said Jay Moon, IEDC chair. "Our awards honor organizations and individuals for their efforts in creating positive change in communities. The Right Place, Inc. demonstrates that they are at the forefront of the economic development profession and are using cutting-edge, effective practices that can be replicated in other communities."
Each year, The Right Place creates an annual report to provide an in-depth review of the major initiatives, projects, and accomplishments completed throughout the year. Designed for investors, strategic partners, and the general public, this annual report demonstrates the continued economic growth in West Michigan driven by The Right Place.
To speak to first-time readers of this report, the beginning of each program section contains a "What We Do" explanation. This small design element provides a quick insight into that individual program outlining the role of the group and their specific area of expertise. The annual report also blends a balance of metrics/results and narrative elements to engage both results-oriented readers, as well as those more interested in the "how and why" behind the numbers.
The annual report has been an excellent tool in building awareness of the organization and the value it brings to the West Michigan community. The report is mailed to over 400 area companies, organizations and municipalities. The report has also helped community stakeholders better understand what economic development is and demonstrate its value in West Michigan.
IEDC's Excellence in Economic Development Awards recognize the world's best economic development programs and partnerships, marketing materials, and the year's most influential leaders. These awards honor organizations and individuals for their efforts in creating positive change in urban, suburban, and rural communities.
About the International Economic Development Council
The International Economic Development Council (IEDC) is the world's largest independent non-profit membership and research organization devoted exclusively to the field of economic development. IEDC helps economic development professionals create high-quality jobs, develop vibrant communities and improve the quality of life in their regions. Serving more than 4,400 members, IEDC provides a diverse range of services including conferences, professional development and certification, publications, research, advisory services, and legislative tracking. Visit http://www.iedconline.org.
About The Right Place, Inc.
The Right Place, Inc. is a regional non-profit economic development organization founded in 1985 and supported through investments from the private and public sector. Its mission is to promote economic growth in the areas of quality employment, productivity and technology in West Michigan by developing jobs through leading business retention, expansion and attraction efforts.