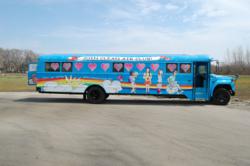 Zonar quickly became part of our fleet management process and paid for itself in cost reductions.
Seattle, WA (PRWEB) October 02, 2012
Cook-Illinois Corporation, one of the largest school bus contractors in the United States, is improving student safety and increasing efficiency, while reducing their carbon footprint with Zonar's telematics platform. The company currently uses the Zonar telematics platform on 900 buses and plans to add an additional 1,300 by the end of the year.
"Zonar is an essential part of running our fleet safely and efficiently," said John Benish, COO of Cook Illinois Corporation. "When we first installed Zonar, we began saving fuel almost immediately by eliminating out of route miles and idling. We also closely monitored bus activity to improve driver performance."
"Zonar quickly became part of our fleet management process and paid for itself in cost reductions," continued Benish. "In addition, the technology is a complement to our other green initiatives including biodiesel fuel and hybrid technology. Therefore, the decision to expand the Zonar telematics system to our entire fleet was really a no-brainer."
Cook-Illinois was established in 1958 and is now the largest privately-owned bus contractor in the United States. The company provides service for customers in the Chicago, IL area and in 2009 partnered with Go-Ahead North America to provide service to other areas of the country.
Cook-Illinois prides itself in its use of environmentally friendly practices. They were the first school bus company to switch its entire fleet to biodiesel fuel, which burns cleaner and puts fewer toxic emissions into the air. They also established the Clean Air Club to help kids learn more about the environment and are currently introducing hybrid buses into their fleet.
"We are excited to help Cook-Illinois reach its environmental goals while increasing student safety and overall efficiency," said Chris Oliver, Zonar's Vice President of Sales & Marketing. "We look forward to providing continued service, support and product features to help Cook-Illinois continue its operational improvements."
Cook-Illinois currently uses the Zonar telematics platform to track vehicle mileage, speed, idling, stops and more. Some routes also utilize additional patented solutions from Zonar including the electronic vehicle inspection system, EVIR®, and ZPass™, for tracking bus riding students.
About Zonar
Zonar helps public and private fleet managers improve CSA compliance, increase fleet efficiency and improve safety through an expansive set of inspection, diagnostic and GPS solutions. In 2001, Zonar released the patented Electronic Vehicle Inspection Report (EVIR®) system to automate and verify the pre- and post-trip inspection process and ensure compliance with state and federal law. Through a unique "Inspect, Track, Know" approach, Zonar also developed a series of telematics platforms that are used in a wide range of applications ranging from vehicle tracking to fuel authorization. Learn more about Zonar at http://www.zonarsystems.com.
About Cook-Illinois Corporation
For more than 50 years, schools and parents have trusted Cook-Illinois Corporation with the most precious cargo. Nothing is more important to us then getting students to school safely and on time. In 1958, when we were just a small company with a handful of buses, we made the commitment to put safety and dependability in the driver's seat, every day and on every route. Today, our fleet has grown and we are now the largest family owned and operated school bus contractor in the United States – and the sixth largest among all school bus companies nationwide. While we have expanded our service over the years, we have not forgotten what a privilege and great responsibility it is to transport children. Learn more about Cook-Illinois Corporation at http://cookillinois.com.