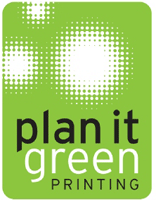 Los Angeles, CA (PRWEB) October 03, 2012
Plan It Green Printing, one of North America's leading earth-friendly printers, recently announced successful green printing projects for a variety of food and beverage companies. Clients include food services, food producers and food packagers who seek eco-friendly printing solutions for printed labels and more. Plan It Green offers a variety of sustainable printing options for businesses and organizations that require printed materials, yet want to limit the negative affect they have on the environment.
In general, a high volume of printed labels are required for food and beverage product and service operations, particularly for perishable items. Plan It Green Printing offers many earth-friendly label options including labels made entirely of recycled materials, labels made from plants such as bamboo and bagasse (rather than trees), compostable labels and dissolvable labels.
These alternatives help businesses that use printed labels reduce their impact on the environment, rather than using traditional plastic labels which are detrimental to the environment if they are not recycled, or if they are printed with petroleum rather than soy or water-based inks. As an increasing number of businesses and organizations in the food and beverage industry seek more eco-friendly food product programs, using green labels helps create a sustainable life cycle for these printed materials.
Plan It Green Printing food product and service provider clients have included Beverly Hills Juice, Coastal Kitchen, Essential Living Foods, Kashi, the Naked Edge, Rocko's Tacos, Simply Straws and Taylor Maid Farms. In addition, educational institution food service clients have included Colorado State University, San Diego Unified School District and The University of California, Berkeley.
Rob Tossberg, founder and president of Plan It Green Printing, commented, "The food and beverage industry has a growing interest in helping the environment, and printing is an important component of that interest. The industry requires a great deal of printed materials, and labels are a big part of that. We now have years of experience working with food service and product providers who want to make sure that their labels don't have a negative affect on the environment. We offer 100% recycled labels, tree-free labels, compostable labels, dissolvable labels and more. In particular, there is a huge area for growth in compostable and dissolvable labels."
About Plan It Green Printing:
Today, companies see the benefit in green printing: the opportunity to brand their products and company as caring about the environment and optimistic about the future. From IKEA to Honda, companies 'get it,' and increasingly customers buy and prefer green when given a choice. Businesses, educational, religious, environmental, animal and scientific groups of all sizes are concerned about sustainability and against water pollution, plastics/degradation of plastic and their affects on animals and humans. Deforestation, extinction and water and air pollution are just a few of the side effects of traditional printing, and the public is increasingly aware of this. Many businesses and consumers demand to know how companies' products are printed and packaged. With Plan It Green Printing, you're assured that your printed products help minimize our footprint on the environment. Plan It Green Printing has been a member of 1% for the Planet since 2004.