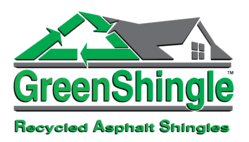 This program not only helps the environment by reducing waste that was previously sent to landfills, but it is also responsive to the homeowner's requests for recycling shingles from roof repair and replacements
Jacksonville, FL (PRWEB) October 03, 2012
Both companies demonstrate a joint commitment to sustainable roofing practices that broadens the scope of shingle recycling by providing a significant addition to GreenShingle's list of recycle sites. It also provides greater opportunities for contractors to save money when recycling, and gives consumers a recycling option. "This program not only helps the environment by reducing waste that was previously sent to landfills, but it is also responsive to the homeowner's requests for recycling shingles from roof repair and replacements," said Barry Hornbacher, shingle recycling program manager at Owens Corning Roofing and Asphalt. "Owens Corning Roofing and Asphalt are proud to support this important initiative and continue to encourage its contractors to take the Roofing Shingle Recycling Pledge as well as encouraging homeowners to make a commitment to recycle their shingles."
According to the U.S. Environmental Protection Agency, each year over 10 million tons of asphalt shingles are removed from homes during reroofing. Much of that material continues to be put in landfills, where the shingles may take over 300 years to decompose. Recycling asphalt shingles is one of the solutions to this problem and GreenShingle is emerging as the premier program to deliver that solution. GreenShingle works with homeowners and contractors to help ensure that the shingles are properly disposed of in one of their strategically located certified recycle sites, making it easy for those who choose to participate.
The recycled asphalt shingles are redirected from area landfills and are then used as a petroleum and aggregate substitute in the manufacturing of Hot Mix Asphalt, which is used in road paving. One normal-sized roof recycled into road mix makes about 200 feet of a two-lane highway. And, due to its physical characteristics, the asphalt pavement produced from recycled shingles can be longer lasting than traditional asphalt pavement products.
In light of the economic and sustainable benefits, Recycling Asphalt Shingles has been endorsed by the Department of Environmental Protection as well as the Federal Department of Transportation. To learn more about GreenShingle, please visit: http://www.greenshingle.com and to learn about Owens Corning Roofing and Asphalt's Shingle Recycling Pledge please visit http://www.roofing.owenscorning.com/recycle.
About GreenShingle
GreenShingle is a subsidiary of Triage Management Services, Inc., which manages a national network of the finest credentialed roofing contractors who perform restoration services for insurance companies and their insured's. Likewise, GreenShingle manages a national network of shingle recyclers who provide assistance to insurance carriers, shingle manufacturers, roofing contractors, haulers and homeowners for the disposal of their asphalt shingles and other roofing salvage to ensure that it is properly disposed of. Our particular model, network, and relationships place us in the unique position of being able to direct these salvaged products to our GreenShingle Certified Recyclers. To that end, we are recruiting a national network of recyclers, haulers and HMA companies.