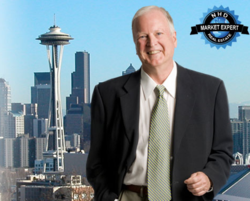 I think you really need to understand a person's lifestyle...
Seattle, WA (PRWEB) October 12, 2012
David Bell of Seattle's Best Real Estate is a Lifetime Achievement Award winner with RE/MAX, and a Seattle Magazine Five Star "Best In Client Satisfaction" Award winner each of the past eight years. As a regular on the Brashenomics radio show, David uses his experience to discuss several areas of consideration a potential home buyer should think about when moving to Seattle or buying a home in the Seattle area.
David knows that people largely buy or sell homes on the basis of emotion and he gives his clients the information necessary to make well-informed, intelligent decisions. He also knows that as a successful realtor, he needs to understand the buyer's lifestyle – what do they do on the weekends? What sorts of activities are they involved with? Do they have younger or older kids?
David feels that it is the responsibility of the real estate agent or broker to ask as many lifestyle questions as possible to determine which Seattle neighborhood will best suit a potential buyer or renter. Buyers should consider more than just the home itself and if the neighborhood they like will be affected by special events, for example.
One neighborhood may seem to be a perfect fit, but there are many other things to consider like proximity of a local municipal airport, which can mean loud airplanes flying overhead. Or public play fields in the area, which could mean bright lights and noise in the summer from a local athletic field, or large traffic impacts from occasional or frequent events. Events like Seafair, which has activities lasting about 8 weeks, or the Freemont Fair, Bite of Seattle, and other festivals, concerts, and family events can become critical factors that impact a buyer's decision to buy a home.
David Bell is a specialist in Seattle area real estate, and he prides himself on being the expert in upscale areas like Magnolia and Queen Anne real estate. David truly understands how to find the best Seattle neighborhood for anyone looking to move or re-locate.