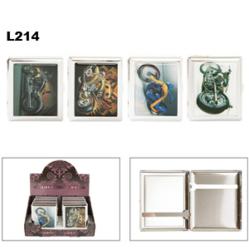 …I'm confidant that cigarette cases will increase sales for retailers and distributors.
Salem, OR (PRWEB) October 04, 2012
CTS Wholesale LLC has expanded their product base to include several new cigarette accessories. Brand new wholesale cigarette cases are now sold by the dozen and come in a variety of designs. Additionally CTS now carries superior quality STAR® lighters, these wholesale lighters are made of solid brass and are sold individually in lighter tins.
Owner Kirk Bachelder is quoted as saying "After the positive response to our line of lighters, I'm confidant that cigarette cases will increase sales for retailers and distributors". Several retailers have reported the profit margins are so nice on these cigarette cases, one stated "…we buy them wholesale for $3 and retail them for $12.99". Cigarette Cases are available in two sizes, for filter cigarettes and 100's and come with a variety of different decorate designs. Every dozen is packaged in a very convenient and attractive display box, making set up and retailing these extremely easy, at prices that make it a very lucrative business choice. Several of the cigarette cases also have coordinating steel lighter sets available as well.
The new cases are made of metal, and have a secure closing mechanism that ensures safety of contents. Cases for filter cigarettes measure approximately 3 ½" by 3 ¼", while cases for 100's are approximately 2 ¾" by 4". The interior of the case features a spring-loaded arm on each side of the recessed case that will hold cigarettes in place and ensure limited mobility and safety.
The new line of Brass Oil Lighters are STAR® brand lighters, which are noted for their superior quality and durability. These new lighters are sold individually, and will come packaged in a very nice lighter tin for added security and protection. These lighters are available in a variety of popular finishes including high polished chrome, brushed chrome and a new multi-colored prism finish. The lighters come in an array of different designs and decorations as well.
CTS Wholesale is renowned for their exceptional selection and pricing on wholesale sunglasses, hats and most recently wholesale lighters and other cigarette accessories. Cigarette cases and the full selection of wholesale lighters can be accessed any time of the day or night via the online store. CTS has been the leading source for wholesale merchandise for over twenty years, and this expertise is paralleled by their outstanding customer service. Owner Kirk Bachelder has extensive experience in both wholesaling and retailing sunglasses, displays, accessories as well as baseball caps. This expertise will undoubtedly lend itself to the success of the new merchandise line of wholesale cigarette cases.