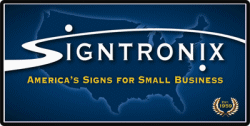 Torrance, CA (PRWEB) October 03, 2012
As a leader in the modern sign manufacturing industry for U.S. small businesses,Signtronix is always looking for ways to encourage growth from the ground up. This is why the company recently announced its first "Tournament of Champions," encouraging its 200+ sales force to expand their horizons. The top 64 salespeople entered into the contest in a "March Madness" style bracket starting in June of this year. Now, the contest is down to its final two contestants.
The way that the tournament works is simple. Contestants who were able to help the most small business owners by selling Signtronix's award-winning, business-growing signs progressed to the next bracket. Starting July 1st, top winners for the bracket were decided every two weeks, and the Sweet 16 round started August 1st. At the beginning of September, the Final Four were determined: Seth McNeal of St. Louis, Taylor Hall of Atlanta, Jaymes Ryan of Denver, and Buddy Swisshelm of Pittsburgh. Each of the Final Four received a five-day trip aboard a private yacht in Baja, Mexico.
And now, it's down to the final two contestants:
Taylor Hall vs. Seth McNeal
The final winner will receive an all-expenses-paid trip to Hawaii for themselves and a partner, which has stirred up excitement across the Signtronix sales team. "We are proud of ALL those Signtronix team members who participated in the first ever Tournament of Champions," said Tom Johnson, President of Signtronix. "They are all Champions to us. I give congratulations to our Final Four winners, Seth, Taylor, Buddy and Jaymes – way to go guys!"
Learn more about Signtronix at http://www.signtronix.com or call them at (800) 729-4853.
About Signtronix:
Signtronix is the premiere sign manufacturer for small businesses across the United States. The company was founded in 1959 and has helped over half a million customers. Signtronix offers many different sign products including outdoor electric signs, LED messages signs, indoor signs and window signs to help America's small businesses get much-needed exposure to the passing public and potential customers. Signtronix is a proud ESOP company (employee stock ownership plan) which is owned and operated by its employees. Follow them on Facebook at http://www.facebook.com/signtronix or on Twitter at http://www.twitter.com/signtronix.