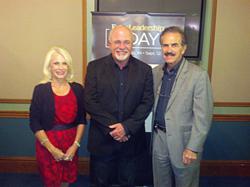 Taking care of people and the treating of everyone with honor, respect and integrity, whether they are our clients, our associates or our neighbors, is a top priority.
Indianapolis, Indiana (PRWEB) October 02, 2012
Founder of the Sevenish Law Firm and one of Indiana's Christian lawyers, Randy Sevenish, and his wife and firm marketing director, Regina, attended the EntreLeadership Seminar in Indianapolis. The business training workshop was led by nationally syndicated radio talk host and financial advisor Dave Ramsey. It took place at the Murat Theatre in Old National Centre. After the full-day event, Randy & Regina met with Dave Ramsey and his staff in private for some additional insight. Sevenish Law is the sponsor of the Dave Ramsey radio program on Freedom 95.
The EntreLeadership Seminar was geared towards changing the way individuals and companies approach business. Topics covered by Freedom 95 talk host and New York Times Best Selling author Ramsey included leadership, goal setting, decision making, following through and integrity with all business relationships – from clients to staff to vendors without limitation.
"Modern legal practices share issues and challenges faced by the almost all businesses. To be effective and respected, managers of any company need to work on their skills in leadership, relationship building, financial planning, communication, decision-making and more," said Randall Sevenish, Christian lawyer and Indiana personal injury attorney.
Randy Sevenish is an Indiana personal injury attorney who has assisted those injured in a wide range of accidents caused by another's negligence since 1985. He has extensive and particular experience in Indiana motorcycle accident litigation as well as other areas of law, such as personal injury.
He is also an active member of his community and church, committed to bettering the lives of others by giving people the help that they need.
"Lawyers need to be leaders in their practices and in their communities. Lawyers have the ability not just to advocate, but to create opportunities and provide positive change," said Sevenish, "Taking care of people and the treating of everyone with honor, respect and integrity, whether they are our clients, our associates or our neighbors, is a top priority."
If you are looking for Christian lawyers with a strong record of successful settlements and verdicts to help with your injury claim, contact a skilled Christian lawyer at Sevenish Law at (800) 278-9200 for a confidential consultation and review of your case.
About Sevenish Law Firm:
Sevenish Law is a law firm that serves clients throughout the Indianapolis, Indiana area, and state-wide for that matter, by providing quality, aggressive and compassionate legal representation for serious injuries caused by a motor vehicle, motorcycle, bicycle crash, wrongful death and other negligence claims including law enforcement and public safety officers injured in an on-duty or off-duty crash.
Randall Sevenish has represented injury victims since 1985. Before practicing law, Sevenish was a captain in the Marion County Sheriff's Department. He founded the county's SWAT team, attended the FBI Academy, and was honored as "Police Officer of the Year" by the City of Indianapolis for his efforts as a police instructor. Law enforcement, as well as his martial arts training and his deep religious faith, shaped his character, and gave Sevenish valuable life and practical skills, well beyond law school, that he employs in seeking aggressive and spirited compensation for his clients.
Sevenish Law Firm takes cases throughout Central Indiana which includes Indianapolis and statewide, from South Bend and Fort Wayne to Terre Haute, Columbus and beyond.