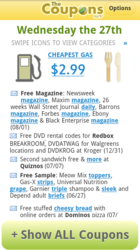 You work hard for your money, your time is priceless. The Coupons App works, so you don't have to.
Chicago, IL (PRWEB) October 02, 2012
Coupons are making a dramatic comeback via mobile redemption, and marketing analysts are devoting a significant percentage of mobile spend to the once modest coupon.
"Time is money," - a phrase that rings true for shoppers and merchants alike as the most valuable asset one has is time. Since the advent of coupons at the turn of the 20th century to the present, advertising via coupons remains an effective marketing tool for capturing and retaining customers.
In 2011, U.S. consumers redeemed almost $5 billion dollars worth of coupons toward their purchases of consumer packaged goods. Recently published research indicates mobile coupon redemption is poised to maintain this exponential growth into 2016 and beyond before saturation is anticipated to impact expansion. Smartphone apps offering digital coupons like The Coupons App are shaping this evolving landscape while carving a new marketing platform offering more intimate connections with consumers than was possible with print campaigns.
Established circa 2008, The Coupons App has achieved over 10 million downloads to date and continues to deliver powerful, exciting new ways to save each day. Impressive, exclusive discounts and worthwhile coupon savings at neighborhood locales and big box retail mean coupons are always at your fingertips, everywhere you go!
The Coupons App is free for Android on Google Play, Apple app store and the Amazon Appstore. To learn more and download the app, visit the company website at http://www.thecouponsapp.com