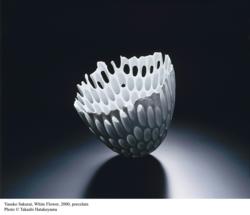 Soaring Voices is a story of triumph, and Maui is the last chance to see this exquisite art exhibition before it returns to Japan.
Maui, Hawaii (PRWEB) October 04, 2012
A gala reception, symposium, artist lectures and demonstrations will kick off a special art exhibit of exquisite Japanese ceramics at the Maui Arts & Cultural Center (MACC) beginning October 21, 2012.
Soaring Voices: Recent Ceramics by Women from Japan will wrap up its North American tour at the MACC's Schaefer International Gallery from October 21, 2012, through January 6, 2013. Showcasing over 80 works of Japanese clay on loan from museums and private collections, the curated exhibit opens a fascinating window into an ancient craft that, for millennia, had shrouded its women artists in obscurity and isolation. This will be the last chance to view the exhibit before it returns to Japan.
In addition to its artistic merit, Soaring Voices is a story of triumph. Though women have long been active participants in Japan's renowned ceramic arts, for centuries they were relegated to support roles. Leadership and recognition were reserved exclusively for men. A discernible shift began in the 1950s, when pioneering women ceramists began circumventing centuries of traditional social boundaries. Kyo Tsuji, for example, changed her name from the feminine "Kyoko" to the male "Kyo" in order to display and sell her work.
The creations of 25 internationally recognized women artists are included in the traveling exhibit, grouped into four generations, including those of the pioneering ceramists who helped pave the way for their younger colleagues. Many of the works are inspired by the natural world – plants, shells, mountains, rivers, and the play of light and shadow – while others draw from other Japanese arts, such as the dance movements of Noh Theater or kimono patterns of the Edo period.
Admission to Soaring Voices: Recent Ceramics by Women from Japan is free. Schaefer International Gallery is open Wednesday through Sunday from 11 a.m. to 5 p.m. and before shows in MACC's Castle Theater. Ample parking is available for free.
Kicking off the 11-week exhibit will be a series of entertaining and educational events:

Pre-Opening Gala featuring a champagne reception, exhibition viewing with its curators and artists, dinner by Chef Sheldon Simeon of Old Lahaina Lu'au, and entertainment by the award-winning recording artist and Kumu Hula Napua Makua on Friday, October 19, at 6 pm. The Gala is a benefit event for the Maui Arts & Cultural Center. Seating is limited.
MACC Symposium featuring Soaring Voices curators and Japanese art experts on Sunday, October 21, from 9 am to 3 p.m. Guests speakers will include: moderator Jay Jensen, Curator of Contemporary Art at the Honolulu Museum of Art; Hiroko Miura, co-curator of Soaring Voices and curator at the Museum of Contemporary Ceramic Art at the Shigaraki Ceramic Cultural Park; Maya Nishi, co-curator of Soaring Voices and president of hus-10, Inc.; Joan B. Mirviss, a leading expert in Japanese art and the foremost Western dealer in contemporary Japanese ceramics; Anne Nishimura Morse, The William and Helen Pounds Senior Curator of Japanese Art, Art of Asia, Oceania, and Africa at the Museum of Fine Arts in Boston; and Halsey and Alice North, leading private collectors of contemporary Japanese ceramics.
Artists Lectures and Demonstrations with five of the exhibiting artists, Ikuko Ando, Fuku Fukumoto, Chieko Katsumata, Yuriko Matsuda and Etsuko Tashima, on Monday, October 22 and Tuesday, October 23, from 10 am to 3 pm.
Admission to all of the opening events is $350; individual event tickets may be purchased separately through the MACC Box Office, (808)242-SHOW (7469) or online at MauiArts.org. Contact the Maui Arts & Cultural Center for more information at (808)242-ARTS (2787) or http://www.MauiArts.org.