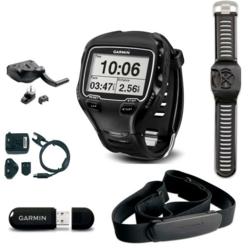 The quick release strap is awesome and will save you 10 to 15 second in T1 and T2
Bozeman, MT (PRWEB) October 02, 2012
Garmin has just released its brand new Garmin Forerunner 910XT triathlon bundle according to the Heart Rate Watch Company.
"The bundle adds a speed and cadence sensor as well as the Garmin 910XT quick release strap," says Rusty Squire, President of the Heart Rate Watch Company. He adds, "The quick release strap is awesome and will save you 10 to 15 second in T1 and T2 because you don't have to mess with it - the watch goes right into and out of the bike mount."
The Heart Rate Watch Company voted the Garmin 910XT as its top triathlon watch for 2012 earlier this year. "We might have to revise that to the bundle because that is the best kit available for tri by far," says Squire.
The advantage for consumers is about a $30 saving buying the bundle over the separate component parts.
The Garmin 910XT triathlon bundle is available for pre-order now and will be delivered in mid-October. The complete kit will include the 910XT watch, soft strap chest strap, A/C adapter and USB charging cord, USB data stick, GSC10 speed and cadence sensor and the 910XT quick release strap.
"There is no question that if I were still competing in triathlon today I would use this exact kit," says Squire, himself a sub-2 hour Olympic distance triathlete in the 1980's. He adds, "Finding ways to transition faster and using high cadence to increase leg speed before the run were key strategies for me."