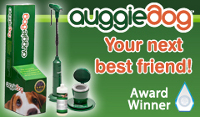 "To beat the Hedgehog, that's just icing on the...poop." Kevin "Cooter" Penne, winner of the Auggiedog Stool Tool Mower Race.
Northbrook, IL (PRWEB) October 03, 2012
Auggiedog, http://www.Auggiedog.com, the Official Pet Waste Removal Product of the U.S. Lawn Mower Racing Association (USLMRA) has announced Kevin "Cooter" Penne as the winner of the Stool Tool Mower Race via a post on "The Cutting Edge Blog" - http://www.letsmow.com/2012/10/the-auggiedog-stool-tool-mower-race/.
Penne bested Mike "Hedgehog" Miller in a 30-yard race to pick up simulated dog waste during the 20th Anniversary STA-BIL Keeps Gas Fresh Finals Lawn Mower Racing Championships held during Labor Day Weekend at the Delaware County Fairgrounds in Delaware, Ohio. Penne was awarded a trophy and an Auggiedog for his victory.
"As a 19 year lawn mower racing veteran, this is one of my proudest achievements," said Penne from his home turf in Lake Villa, Illinois. "And to beat my good friend and racing competitor Mike Miller, well that's just icing on the…poop."
"I think Cooter cheated," said Miller from his trophy-filled garage in Kenosha, Wisconsin. "I've been racing him for 19 years, and I could smell something, um, strong, and I don't think it was racing fuel. I have requested a rematch."
Auggiedog, a revolutionary poop pick up power tool for dog owners, requires no stooping or touching and no plastic bags to pick up the waste left behind by America's 78 million "best friends." Auggiedog picks up dog poop with the push of a button, has a built-in light for late night walks, and features a handle beeper for dog training. The Auggiedog even comes with its own biodegradable cleaning solution and hands free clean station. Auggiedog is Five Star approved by the American Pet Association (APA) and is an award winner at the 2012 Global Pet Expo."
According to the American Pet Products Association 2011-2012 National Pet Owners Survey, there are approximately 78.2 million owned dogs in the United States and 39% of U.S. households own at least one dog. Auggiedog is the most convenient and cleanest way for any dog owner, especially city dwellers and seniors, to pick up dog waste.
Simply pull the trigger and the 2.8lb. Auggiedog will deliver. It is the first ever no touch, no stoop, no bag 7.2V rechargeable power tool for picking up what your pal leaves behind! It truly is the "Stool Tool." The Auggiedog is safe for most environments including grass, snow, pavement and tile floors.
About the U.S. Lawn Mower Racing Association
Founded on April 1, 1992, The U.S. Lawn Mower Racing Association sanctions and presents organized lawn mower racing across America including the 20-race STA-BIL Lawn and Garden Mower Racing Series, a U.S. Open National Series, Local Traveling Chapters and Home Track Affiliated Clubs, hosting 140 events each year. The USLMRA is the nation's oldest and largest National Lawn Mower Racing Sanctioning Body with more than 800 racers nationwide. Lawn mowers race in several road course classes with all cutting blades removed at speeds from 10-60 mph. Racers compete for trophies, points and bragging rights, never for purse money. The annual STA-BIL Keeps Gas Fresh Finals national championship is televised on Fox Sports Net "Race Freaks" USLMRA sponsors include STA-BIL Fuel Stabilizer, HEET GasLine Antifreeze, Diesel Power!,104+ Octane Boost, No Leak, Alumaseal, Start Your Engines!, K&N Filters and Gnomefrenzy.com. For mow info please visit http://www.letsmow.com.
About Gold Eagle Co., makers of USLMRA Title Sponsor STA-BIL Fuel Stabilizer
For 80 years, Gold Eagle® Co. has been an industry pioneer in the production and distribution of aftermarket fluids and additives, creating products that help preserve, protect and enhance the performance of engines everywhere. Gold Eagle® Co is a leader in the product development, manufacturing, marketing, and distribution of branded engine performance and maintenance chemicals. Privately held and headquartered in Chicago, Gold Eagle Co. is the manufacturer of leading brands, including STA-BIL® Fuel Stabilizer, HEET® Gas-Line Antifreeze, NO-LEAK® Treatments, 104+® Octane Boost, Start Your Engines® and DieselPower!® Diesel Additives. To view a complete line of Gold Eagle products or learn more about the Company, please visit http://www.goldeagle.com.
For more information visit http://www.letsmow.com or call (847) 272-2120.
#######