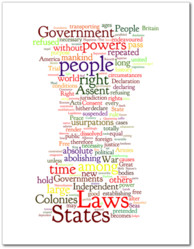 Is there a more awe inspiring legal document ever written?
(PRWEB) October 11, 2012
The text from the Declaration of Independence has been deconstructed and broken down into single words, the words are then compiled in order of frequency and the more frequent a word appears in the text, the more prominent it's presentation in the print, creating a hierarchy of size. Color schemes and placement have been carefully adapted to convey some of the message inherent in the work itself, reconstructing the text as a beautiful print with true soul.
Is there a more awe inspiring legal document ever written? The Declaration of Independence encompasses the founding fathers deep desires for their country and citizens. Simply beautiful.
The limited print is lovingly printed on matte, acid free, recycled, luxurious and thick, 300 gr/sqm super quality art poster stock. The prints measure 18 x 24 inches and cost $34.90.
Any questions, comments or sample request are welcome.
Pascal Henri
affichionado.com
Declaration of Independence: http://www.affichionado.com/products/declaration-of-independence
The name affichionado is a marriage of the two words affiche and afficionado:
affiche (afiʃ) — noun
a poster or advertisement, esp one drawn by an artist, as for the opening of an exhibition
af·fi·cio·na·do  — noun
an ardent devotee; fan, enthusiast.