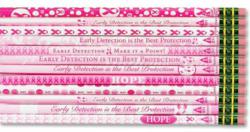 We are excited to offer cool products that support a great cause at the same time.
Grand Rapids, MI (PRWEB) October 04, 2012
The geeks are wearing pink and proud of it. To honor National Breast Cancer Awareness Month, the e-commerce site will be featuring an extensive line of Pink Ribbon Office Products during the month of October. The manufacturers of these items donates a portion of the sale proceeds to the fight against breast cancer.
SupplyGeeks.com launched in May, 2012. Since their launch, the geeks have gone against the grain in comparison to the big box stores. Their main focus has been on expert product knowledge, superior customer service and offering over 35,000 products. The maverick office supply e-tailer has quickly grown by offering a large selection of hard to find clipboards, binders, pens, markers, rubber bands and discount toner cartridges. By purchasing Pink Ribbon products, customers are able to outfit their office while joining the fight for a cure, too.
"We are excited to offer cool products that support a great cause at the same time," says director of commerce Eric Houtkooper. "It seems like everyone has been directly effected by this disease, and any way we can help to find a cure, the SupplyGeeks are on board," says Houtkooper.
Popular Pink Ribbon office products include sharpies, pens, planners, and post-it notes. Although these items are featured during Breast Cancer Awareness Month, they are always available throughout the year.
About SupplyGeeks
Headquartered in Grand Rapids, Michigan, SupplyGeeks.com is an online seller of office supplies, business furniture, tech gear and more. Backed by a parent company with over 60 years of experience in office supplies, this innovative company aims to make your work experience more efficient, and whenever possible, more fun. SupplyGeeks.com Director of E-Commerce, Eric Houtkooper, was previously President of PupLife, a company specializing in designer dog supplies. For more information about SupplyGeeks, please contact Eric Houtkooper at ehoutkooper(at)supplygeeks(dot)com.