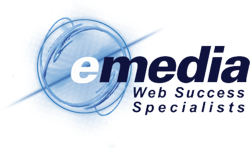 It's simple...helping small businesses grow helps our business grow.
Fort Wayne, IN (PRWEB) October 04, 2012
How would a FREE e-commerce website help your small business grow? No need to wait and find out. eMedia wants to help small businesses in today's challenging markets, and is giving away a complete e-commerce website. Think of it as eMedia's Pre-Election Small Business Stimulus Program. Eligible Small Businesses can learn more about eMedia's Pre-Election Small Business Stimulus Program here.
It's a fact, online sales are growing at double digit rates. Mobile e-commerce sales exploded last year and are on track to do so again. A recent article in Internet Retailer magazine stated in its headline: "Web and other non-store holiday sales will increase 15% to 17% this year... 75% of those sales will stem from the web". Businesses that are not online, or not visible on mobile devices, will miss this opportunity.
Lee Pomerantz, Pres/CEO of eMedia Technologies, Inc., summed up his company's focus by saying "It's simple, helping small businesses grow helps our business grow".
About eMedia:
If you are looking for Web Success Specialists, look no further, and welcome to eMedia Technologies, Inc. We use the latest web based tools and services to help our clients grow in today's fast paced, competitive markets.
eMedia has been in business since 1999, and we keep ourselves on the front edge of the rapidly changing online world. That said, what we do is not about the technology. Rather, it's all about working with our clients to assist them in meeting their unique goals and objectives.
eMedia combines real world business experience with world-class design and development skills to provide our customers with solutions that get results.
eMedia Technologies, Inc. provides exceptional skills in the key areas needed to succeed in today's online world. Our primary areas of expertise include:
*Thorough understanding of today's online tools and how to apply them in the execution and achievement of business / organization growth & marketing goals
*Web design and development – If it's online, we can do it. e-Commerce design and development, Web presence design and development, Custom web enabled database applications, Custom web application design
*Internet Marketing , Marketing Automation, Search Engine Optimization, email marketing, Inbound Marketing, Content Marketing
*Mobile web and mobile application design and development featuring Responsive Design
*Software as a Service (SaaS) design, development, and delivery
*Business Marketing and Consulting, Graphic Design, Project Management
Let eMedia become your WEB SUCCESS SPECIALISTS. We will develop the web image & deliver the online results your company or organization deserves.
Web Design & Development | eCommerce | Internet Marketing | Mobile Web and Applications |