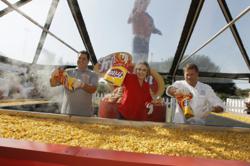 Dallas, TX (PRWEB) October 02, 2012
Thousands of excited fair attendees gathered in Big Tex Circle at the State Fair of Texas on Oct. 1, 2012 to watch the completion of the largest Fritos Chili Pie in celebration of Fritos corn chips 80th anniversary.
Weighing in at 1,325 pounds – featuring 635 bags of Fritos corn chips, 660 cans of Hormel® Chili without Beans and 580 bags of shredded cheddar cheese – the Guinness World Records® title was officially set for the biggest-ever Fritos Chili Pie
Fans across America can also join in the 80th anniversary celebration by supporting our troops through Wounded Warrior Project™ (WWP). From September 16 through October 13, consumers can look for special displays atlocal retailers featuring a $1-off coupon for combined purchase of Fritos corn chips and Hormel Chili. For every coupon redeemed, Fritos and Hormel Foods will donate $1 to WWP, up to $100,000, to honor and empower wounded warriors in the U.S. Armed Forces.
The Fritos brand was born in 1932 when Elmer Doolin purchased a corn chips recipe from a local businessman and began making the first Fritos chips right from his mother's kitchen with a converted potato ricer. The popularity of the snack catapulted in 1961 when he joined forces with H.W. Lay & Company to create Frito-Lay, Inc. Doolin's mother, Daisy Dean Doolin, created recipes to help market Fritos corn chips by using them as an ingredient in a wide range of dishes, including her now-famous Fritos Chili Pie. Once a dish favored in small hometowns, Fritos Chili Pie is now served coast to coast, where fans from New York to Los Angeles relish it.