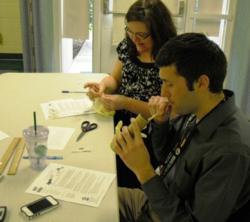 Sacramento, CA (PRWEB) October 03, 2012
RAFT (Resource Area For Teaching) Sacramento a non-profit that has been promoting hands-on, interactive learning for over five years in the greater Sacramento area, announced today that it has hired Director of Education, Jill Godtland.
"The Director of Education will be key in setting the education vision for RAFT Sacramento and in creating professional development that aligns with the new Common Core State Standards," said Mark Anderson, Founder of RAFT Sacramento.
Jill Godtland comes to RAFT Sacramento with a wealth of experience. Ms. Godtland began her teaching career as a lead teacher in Stockton, CA with Aspire Public Schools, a premiere charter school organization. After moving to the mid-west, Ms. Godtland was the Director/Superintendent of Paideia Academy, a K-8 Core Knowledge charter school in St. Paul, MN. Ms. Godtland implemented data-driven practices to foster excellence in the school's academics. She has a strong background in hands-on learning and curriculum development. Prior to her educational career, Ms. Godtland worked as a manager at retail stores such as, Crate and Barrel and Nordstrom.
"I am thrilled to be a part of RAFT Sacramento! We have so much to offer educators for such a reasonable, cost-effective price. I am anxious to start work with the Common Core State Standards by creating relevant professional development for teachers and administrators and continuing our work with STEM (Science, Technology, Engineering, and Math). I also look forward to developing new partnerships within the community", exclaimed Jill Godtland.
RAFT Sacramento is a thriving non-profit organization with parent Learning Resource Centers in San Jose, Redwood City, CA and Denver, CO. The organization has grown to serve more than 2,500 local educators, who in turn have worked with over 70,000 children in grades pre-K to12. With over 1,000 volunteers, RAFT Sacramento distributes 20,000 cu. ft. of low cost materials per year to educators in school programs and other children's groups across the region.
RAFT Sacramento offers a wide variety of hands-on learning kits and idea sheets for educators. Visit RAFT Sacramento or http://raftstore.net to purchase some of these kits online.
If you are an educator RAFT is the place to come! If you want to help RAFT improve education in your community and prepare young learners to tackle 21st Century challenges, there are many ways to get involved! To learn more, go to http://www.raftsac.org.