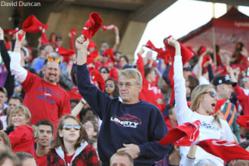 Lynchburg, Va. (PRWEB) October 02, 2012
Kirk Cameron will speak at Convocation Friday at Liberty University as part of Homecoming Weekend, a highly anticipated annual tradition at Liberty. Homecoming welcomes Liberty alumni Oct. 4-6 with an abundance of exciting events planned all across campus. The Alumni Relations Office predicts this to be the largest Homecoming draw ever at Liberty.
The weekend begins with Convocation on Friday morning with actor/producer Cameron, best known for his role on the hit television show "Growing Pains" and faith-based movies like "Left Behind" and "Fireproof."
There will be a cookout on Friday night at the Hancock Welcome Center with carnival rides followed by the annual homecoming bonfire, featuring the drumline from the Liberty University Marching Band.
Flames fans from all over are welcome to unite at several Athletics events Friday night including men's soccer, women's volleyball, and Division II men's hockey.
Saturday is chock full of activities, including more athletics events, campus tours, the Deep Hollow Half Marathon and 5K trail race at Camp Hydaway, and a tailgate party on the lawn of the Welcome Center. The weekend activities culminate at the annual parade at 1 p.m. and homecoming football game against Gardner-Webb at 3:30.
"This year we will be providing more activities for alumni and their families than ever before," said Tyler Falwell ('06), director of Alumni Relations at Liberty.
With so many changes taking place around campus, including the campus transformation, there will be "Then and Now" signs placed at various locations. These signs will have a photo of what the location looked like in the past.
"As alumni director its important for me to make sure we never forget where we came from and those that were on the ride along the way," Falwell said. "Some of our alumni's fondest times while at Liberty were some of the early days which many would consider hardships. These hard times is what brought the alumni closer than ever and created such a strong bond."
Visit Liberty's website for a full schedule of Homecoming events.
About Liberty University
Liberty University, located in Lynchburg, Va., is the world's largest Christian university. Nearly 100,000 students attend classes on its 6,800-acre residential campus and study in its thriving online education program.