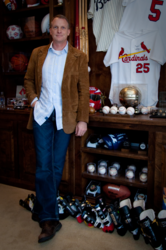 Omaha, NE (PRWEB) October 03, 2012
Rural Media Group, Inc. (RMG) is proud to announce that it has secured the talents and experience of Michael LaBroad to fill the new role of Chief Marketing Officer. Mr. LaBroad formally held CMO positions at Anheuser-Busch, Bass Pro Shops, and The National Hockey League.
Rural Media Group recently celebrated 11 years of success with RFD-TV, which launched as Rural Media Group's first network and America's first 24-hour television channel dedicated to servicing the needs and interests of rural America with programming focused on agriculture, equine and rural lifestyle, along with traditional country music and entertainment. Sister network, RURAL TV, launched in February 2012 and is a multimedia agribusiness and rural lifestyle network featuring primetime news broadcasts focused on agribusiness and rural policy issues.
"I could not be more enthused about joining RFD-TV and RURAL TV," stated Michael LaBroad. "Rarely does one come across a brand with such an existing large, and passionate, customer base. I look forward to engaging this audience further to expand our relationships with this network's clients."
In addition to developing overall marketing initiatives, Mr. LaBroad will also be responsible for integrating the advertising sales departments for RFD-TV, RURAL TV, RFD-TV The Magazine, RFD-TV The Theatre, as well as the channel's web properties on RFDTV.COM and MYRURALTV.COM.
"Our search is over. Michael is absolutely the perfect person to lead the effort to combine sales and marketing into one coordinated division to better serve our advertisers, sponsors, and viewers," stated Patrick Gottsch, Founder & President of RMG. "He is a tremendous asset to our new management team that will definitely take us to that next level, and beyond."
Mr. LaBroad started his marketing career at Anheuser-Busch and in 25 years there rose through the ranks to become the CMO. In his tenure he oversaw such campaigns as the Budweiser Lizards, as well as their $1 billion entertainment division that included Busch Gardens and Sea World properties. Recruited to join Bass Pro, he lead their efforts to reach their unique outdoor audience. For the NHL, he was tasked to help restore the fan base after the 2004-2005 lock-out.