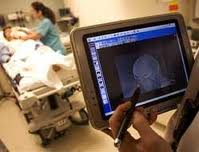 There has been an increasing collaboration between PACS vendors and EMR vendors to merge the two systems.
Vancouver (PRWEB) October 03, 2012
According to a new market research report series by iData Research (http://www.idataresearch.net), an international medical device, dental and pharmaceutical market research firm, the U.S. market for Electronic Medical Records (EMR) and Picture Archiving and Communication Systems (PACS) is estimated to almost double within the next few years as U.S. government incentives stimulate unit sales, system upgrades and service & maintenance.
A tremendous financial investment has been allocated towards EMR, and continues to pour into this market through the U.S. economic stimulus package in an effort to improve the quality of U.S. healthcare. Thus, as a result of government funding, healthcare providers have a financial incentive to implement well-designed EMRs that will handle the departmental workflow of the facility. Reimbursements and penalties from Medicare and Medicaid encourage healthcare providers to adopt EMR technology into their practice. EMR holds all relevant information about a patient, including demographic information, test result information, and clinical decision support. Trends in EMR suggest that eventually there will be a link to an image repository. EMR will take on the task of driving workflow and PACS will become the content management side of the EMR. "There has been an increasing collaboration between PACS vendors and EMR vendors to merge the two systems" notes CEO Dr. Kamran Zamanian. "As the Center for Medicare & Medicaid Services (CMS) push U.S. healthcare providers toward Meaningful Use Stage 2 and Stage 3, the current proposed rules expect healthcare providers to not only incorporate structured laboratory reports, but to also electronically transmit patient care summaries." This will support transition in care among unaffiliated providers, settings, and EMR systems. Therefore, there has been an increasing pressure on hospital administration to continue meeting eligibility of Meaningful Use in order to qualify for incentives. Spending will follow accordingly. However, as healthcare providers reach the latter stages of Meaningful Use, it is expected that there will be a call for increased digitalization of departmental imaging systems which could potentially spur continued growth in the U.S. PACS market.
The $1.2 billion-dollar U.S. ambulatory EMR market has doubled in value from last year and is expected to continue rapid growth. Consisting of both the acute and ambulatory markets, this industry is very unique in that much of the growth is driven by government incentives that were enacted in 2008. Previously, the market was relatively small with most healthcare providers still utilizing a paper-system for their medical records. However, with the new emphasis on advancing the healthcare infrastructure across the U.S., government initiatives have created a booming market driven by a very high adoption rate. Overall growth is expected to remain steady until 2016 as Meaningful Use incentive payments continue. Afterward a stagnation period is expected as the penetration rate reaches its peak, and the majority of all willing adopters will already have an EMR system in place. Market growth is expected to be sustained by revenue generated through service contracts as healthcare providers require some form of service & maintenance in order to sustain their PACS systems. Historically, industry experts have predominantly predicted strong growth; however, it has been hindered by the slow recovery following the 2008 financial crisis and the recent focus of healthcare recovery spending on the implementation of EMR systems.
Although GE Healthcare leads the U.S. PACS market, several other PACS vendors are trailing closely behind, including: Philips Healthcare, McKesson Provider Technologies, Fujifilm Medical Systems, Carestream Health, Siemens Healthcare, Merge Healthcare, and DR Systems Inc. Many of the large PACS vendors are part of a corporation that carries multiple product lines which gives them access to a greater client base. Therefore, within the PACS market, several main vendors have captured a portion of the market and have significant footholds with regards to the number of healthcare facilities using their PACS system. Although there are several smaller vendors that have developed niches and compete in specific markets, they are increasingly finding themselves in direct competition with the larger vendors. As the market matures, this trend will intensify competition among PACS vendors for client accounts.
This information was taken from iData's recently published report series: U.S. Market for Electronic Medical Records and U.S. Market for PACS. More information can be found by registering free on their website at http://www.idataresearch.net/idata/registration.php
About iData Research
iData Research Inc. (http://www.idataresearch.net) is an international market research and consulting group focused on providing actionable market intelligence for the medical device, dental and pharmaceutical industries. iData covers research in categories such as: PACS, EMR, Interventional Cardiology, Cardiac Surgery, CRM, Peripheral Vascular, Dental, Endoscopy, Laparoscopy, Ophthalmics, Orthopedics, Patient Monitoring, Urology, Gynecology and more.