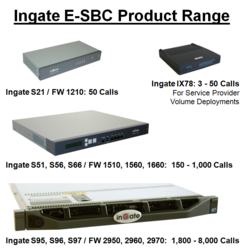 Now enterprises can benefit from Ingate's flexibility, unmatched interoperability, ease of installation and maintenance and true SIP conformance and UC capabilities, in the very high-capacity E-SBC segment up to 8,000 concurrent calls.
ITEXPO WEST –
AUSTIN, TX (PRWEB) October 03, 2012 -- Ingate® Systems announces the new Ingate Firewall® 2970 and Ingate SIParator® 97 with the highest capacity of any Ingate product. Ingate E-SBCs enable secure SIP communications such as SIP trunking and Unified Communications beyond the protected enterprise network.
Designed for large enterprises, the Firewall 2970/SIParator 97 allow for up to 8,000 concurrent voice (or RTP) sessions, serving large call centers and enterprises with hundreds of thousands employees. The new E-SBCs feature six Gbit interfaces, a RAID 1 mirrored hard disks and redundant power supplies to ensure availability for mission-critical applications.
"Now enterprises can benefit from Ingate's flexibility, unmatched interoperability, ease of installation and maintenance and true SIP conformance and UC capabilities, in the very high-capacity E-SBC segment," said Steven Johnson, President, Ingate Systems. "Ingate's E-SBCs can also globally connect SIP-based Unified Communication in addition to serving as gateways for SIP trunking of conventional telephony using service providers' cost-efficient connection offerings. The new SIParator S97 and Firewall 2970 bring current SIP trunking, Internet+ as well as Telephony+ functions into the high end capacity segment."
The Ingate 2970/97 will be available fall 2012. This will make a high-capacity E-SBC available on Ingate hardware as well as with the Ingate Software SIParator.
Enabling Global Unified Communications Ingate E-SBCs can also enable global secure SIP into the network, making both SIP trunking and Unified Communications possible. Ingate SIParators work hand-in-hand with an existing network firewall to allow SIP traffic to traverse the enterprise edge. Alternatively, the built-in firewall can be enabled to provide full enterprise security for all SIP and data traffic with the single Ingate device.
The E-SBCs allow businesses to adopt and use SIP communications - including SIP trunking and the full breadth of Unified Communications applications - to reach users not only within the local area network but outside the enterprise as well.
For more information visit Ingate at the SIP Trunk-Unified Communications Seminars at ITEXPO West, in room 9C of the Austin Convention Center.
About Ingate® Systems
Ingate® Systems develops firewall technology to enable global SIP-based person-to-person communication such as IP telephony, presence, Instant Messaging, video conferencing, IP-PBX connections and Unified Communications. With a history in security, Ingate offers enterprises, service providers and carriers elegant solutions that make trusted SIP communications possible beyond the LAN. Ingate products are used by retail companies, financial institutions, industrial firms, government agencies and small-to-large enterprises throughout Europe, Asia and North America. For more information visit ingate.com.
About Internet+
Internet+ represents the future where global Unified Communications integrates and replaces the current telephone network, to expand beyond the world of Plain Old Telephony (POTS), with a cost efficient, reliable and SIP compliant infrastructure for the service providers that allows global end-to-end SIP based communication, yet fully integrating the current POTS and VoIP infrastructures. Internet+ adds quality of service for real-time applications, billing by usage, phone number usage, extended security, to the inherent advantages of the Internet, such as global end-to-end connectivity - wherever you are - without compatibility issues and restricted application usage that comes with current hierarchal POTS/IMS/SDN telco network structures. It also brings the mobility and reliability of IP networks into the telephony world (which cannot be benefited from in the current hierarchal infrastructures of the telco world).
About Telephony+
Telephony+ is growing the current fixed and mobile telephony services (which has stayed almost the same for 100 years – limited to voice only with lower quality than AM-radio) to all possible types of SIP based real-time communication, adding high quality voice and video-conferencing including telepresence, grooving current text messaging (SMS) to any form of text + voice + video, still connecting to everyone using telephone numbers or SIP addresses. Such applications will be available with full mobility and global connectivity just like using http based applications wherever you have Internet access.