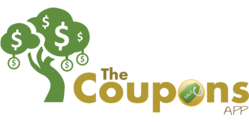 Over 10 million downloads circa 2008!
CHICAGO, IL (PRWEB) October 03, 2012
The developer of The Coupons App recently announced that this popular application just reached its ten millionth download. Since it was first offered in 2008, The Coupons App has proven to be the most popular shopping download across all platforms and is giving users access to valuable coupons to make their shopping lives a lot easier.
The Coupons App is offered for free and can be downloaded on Apple's App Store, Google Play and the Amazon App Store. The innovative app is very simple to use. Coupons appear on a user's mobile device and the user just goes into a store, scans the coupon using their device and enjoys the savings. One of the most popular features of The Coupons App is that the coupons include a bar code. Since many retailers will not accept coupons without barcodes, this feature alone makes The Coupons App incredible useful. The Coupons App also features real time coupons that are updated on a daily basis. Users never have to worry about an outdated coupon. Other unique features of The Coupons App include handy updates about the cheapest gas prices in the users area, the ability to share valuable coupons with friends and family via texts or emails and even a handy bar code scanner to compare prices while shopping. It's no wonder that over 10 million users have downloaded The Coupons App.
Those who have downloaded The Coupons App are giving it rave reviews with one happy user saying, "This app is awesome! I check it before going to my favorite stores, bring up the coupon and then they scan it right from my phone. So simple to use!" Many others simply say, "I love this app!"
ABOUT THE COUPONS APP
The Coupons App offers users coupons for their favorite stores, restaurants and gas stations. Since it was released in 2008, millions have downloaded this useful app and are using the coupons offered on it at retail outlets everywhere. The app offers real time coupons and daily deals, location-based gas price updates, a handy built-in barcode scanner, the ability to share coupons via texts and emails, a voice search option and much more. The Coupons App features coupons that are updated daily and is available for download to the iPhone, iPad and Android. Visit the company website at http://www.thecouponsapp.com