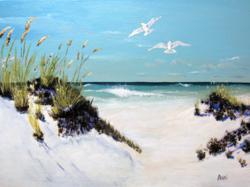 Destin, FL (PRWEB) October 04, 2012
The 17th annual Destin Festival of the Arts will welcome all kinds of artisans and craftsman to the Gulf Coast this fall. Taut white tents brimming with brilliant paintings, fantastic sculptures and hand-crafted ornaments are poised to inspire the crowds of art lovers expected to attend. However, considering that the Gulf of Mexico is the backdrop, it may give other works of art some competition.
This signature event is one of the finest art festivals in Northwest Florida and this season will boast over 18 different mediums with artists competing for a total of over $9,000 in cash prizes. A food pavilion, live music and children's tents with activities will top off the festivities making it a stimulating yet refreshing event for all ages.
The admission is $3 for adults and there will be no charge for children under 12. While there is no doubt about the amount of beauty on the beach during the festival, it may turn out that the big reveal is the unmatched views of the emerald waters of the Gulf.
Learn more about the 2012 Destin Festival of the Arts at the Destin vacation blog.