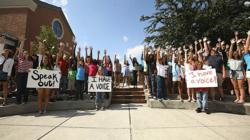 Wilmington, NC (PRWEB) October 03, 2012
The new Headmaster of Cape Fear Academy (CFA), Donald Berger, and staff are taking a stand against bullying. In observance of National Anti-Bullying Month, on Thursday, October 4th, the school will introduce its new Respect Policy which defines how the school strives to maintain an environment in which everyone can learn and develop to his or her fullest potential without feeling fear, intimidation or ridicule. It defines unacceptable behaviors that will not be tolerated at CFA. To coincide with the institution of its new policy, the school is hosting a special assembly for students in the lower school to increase awareness about bullying, and to premiere the newly released anti-bullying music video "My Song for Taylor Swift." The song was written, and performed by Cape Fear Academy's 5th grade student, Jolie Montlick, who is also a National Spokesperson for the anti-bullying organization the A4K Club (a4kclub.org).
In May of this year, as part of its commitment to stopping bullying, the school donated the use of its campus for the filming of the music video. Over 150 children and adults from the community participated in the production. The music video also honors Taylor Swift, who was once herself a victim of bullying. The song's story is brought to life through heartwarming scenes that show acts of kindness, and is intended to motivate and empower kids to take appropriate action and speak up when they see bullying.
"I firmly believe we can decrease bullying in our schools by engaging students in solving the problem. Jolie has taken a big step in that direction," says Headmaster, Donald Berger. "We are excited to see the positive impact that both Jolie's video and our new policy will have on our students." Headmaster Berger believes that simply having a policy is not enough when it comes to bullying. It takes pro-active and ongoing involvement and a commitment from teachers, administrators, students and parents to have the desired impact. "We hope that what we are doing here at Cape Fear Academy will be an example for other schools in our community and across the country" says Berger.
The assembly and video premiere for the lower school students will take place on October 4, 2012 at 1:45pm, in the Erin E. McNeill Performing Arts Center at Cape Fear Academy, 3900 South College Road, Wilmington, NC. The media is invited to attend.
About Bullying:
According to the National Education Association, Nearly 160,000 children miss school each day for fear of being bullied. The growth of technology and social media has made it even easier for children to harass and torment other kids. Over 50% of adolescents and teens are bullied online, and over 25 percent of those children are bullied repeatedly through their cell phones or the Internet. More than half of young people do not tell their parents when bullying occurs. Bullying can have long-term effects on children including depression, self-harm and suicide. According to the CDC, suicide is the third leading cause of death for people ages 10 to 24.
About Cape Fear Academy:
Since its opening in 1967, Cape Fear Academy has been a leader in the educational community of southeastern North Carolina. Known for its academic excellence and outstanding college preparatory program, the pre-kindergarten through twelfth grade curriculum emphasizes hands-on learning across academic disciplines. Respect and integrity, which foster an atmosphere of trust and safety for the Cape Fear Academy community, are also key components of the school's mission. Cape Fear Academy is located in Wilmington, NC and is accredited by the Southern Association of Colleges and Schools (SACS) / Southern Association of Independent Schools (SAIS). The Academy is owned and operated by a not-for-profit corporation governed by an elected Board of Trustees and is a 501(c)(3) organization unaffiliated with any other institution, group, or church. For more information, please contact Susan Harrell, Director of Advancement.