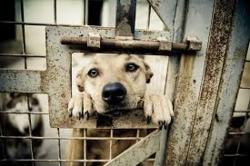 Our job is to raise awareness to this cruel method of slaughter because with awareness comes power.
NEW YORK, (PRWEB) October 02, 2012
Animal Aid USA and Take Action announced today the formation of a strategic partnership to lobby against the use of gas chambers to euthanize shelter animals across the U.S. The partnership combines forces from both organizations to provide considerable leverage in the growing effort to outlaw the use of gas chambers in at least 38 hold-out states.
Led by Animal Aid USA co-founders Prince Lorenzo Borghese and Karen Talbot, and Take Action co-founder Chrissi Roberts, the newly formed coalition also asked for supporters in gas chamber states to start building awareness by educating others in their communities about the cruelty of gas chamber euthanasia. Borghese, Talbot and Roberts encouraged animal advocates to raise their voices, attend community meetings, coordinate outreach efforts and contact their local and state lawmakers to ban the practice in their communities.
Roberts says that her Take Action organization has been working tirelessly to rally the anti-gas chamber movement, making the alliance with Animal Aid USA a natural one for both organizations.
"Take Action is thrilled to partner with Animal Aid USA," Roberts says. "We see this as an important step in our efforts to galvanize the entire anti-gas chamber movement and have our two organizations' supporters come together in a unified effort.
"To date, Take Action has seen so many groups working on this issue independently, and while we applaud their efforts, we hope this is the first of many alliances that will bring focus to our energies in a more integrated way."
Borghese echoed Roberts's sentiments, calling theirs an ideal alliance for strengthening the cause and reinforcing the need for awareness-building, education, and coordinated efforts to end the practice of gas chamber euthanasia in every corner of the U.S.
"It's a fact that most Americans aren't aware that pets are being killed in gas chambers daily," Borghese says. "When they are made aware, they are shocked and want it to stop.
"Our job is to raise awareness to this cruel method of slaughter because with awareness comes power. Combining Animal Aid USA and Take Action creates the perfect team to spread such awareness and put an end to the gas chamber once and for all."
About Animal Aid USA:
Created in January of 2012 by a group of volunteer animal lovers who receive no monetary compensation, Animal Aid USA members drive more than 1,600 miles each month in order to relocate animals from high-kill shelters to receiving rescues and homes. Besides finding homes for animals that face an uncertain future, Animal Aid USA raises money to fund spay and neuter programs in low income communities and raise awareness of the legal cruelties happening daily in the U.S., such as the gas chamber. In July, Animal Aid raised awareness of the cruelty of gas chamber euthanasia through the Amazing Grace Caravan. This caravan also saved 144 shelter animals. In total, the volunteers of Animal Aid USA have rescued more than 2,200 animals.
About Take Action:
With leadership across the country and internationally, Take Action is comprised of volunteers with a wide range of experience in animal welfare issues. Take Action participants organize rescues, volunteer at shelters, foster adoptable dogs and cats, and are committed to making the world better and safer place for all shelter pets.
Ending the use of the gas chamber across the nation's shelters and replacing it with the more humane method of lethal injection is Take Action's number one priority.
###