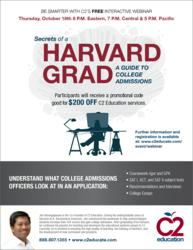 Although most high school students want to go to college, few fully understand how to get there.
Atlanta, GA (PRWEB) October 08, 2012
Even as college tuitions rise, the value of a college degree remains incontrovertible: People with a college degree earn 84% more over a lifetime than those who hold only a high school diploma. Yet although most high school students want to go to college, few fully understand how to get there.
On Thursday, October 18 at 8 PM Eastern Time (5 PM Pacific), C2 Education will host a new interactive webinar titled "Secrets of a Harvard Grad: A Guide to College Admissions." The webinar will be presented by Mr. Jim Narangajavana, a co-founder of C2 Education. In fact, C2 was born on Harvard's campus when David Kim and Jim Narangajavana joined forces to provide tutoring services to local students. Now, Mr. Narangajavana will share his secrets for getting into a dream college.
Participants in the webinar will not only gain valuable insight into the college admissions process, but will also be able to have their questions answered by college admissions experts. This fully interactive webinar will include information about:

The balancing act between course difficulty and GPA
The roles that the SAT, ACT, and SAT Subject Tests play in college admissions
What colleges look for in recommendation letters and admissions interviews
How to tackle the college admissions essay
This is the latest in C2 Education's informative webinar series; past webinars can be viewed online. Those who attend "Secrets of a Harvard Grad" will receive $200 off C2 Education services. Although the webinar is free, registration is required. Further information and registration is available online or by calling (888) 807 – 1355.
ABOUT C2 EDUCATION
C2 Education is the nation's fastest growing network of educational support centers. The company's mission is to provide greater educational opportunities to all students. With 120 centers nationwide, C2 Education serves thousands of students each week, offering services ranging from SAT/ACT test preparation to subject tutoring and college admissions counseling. Further information is available at http://www.c2educate.com.