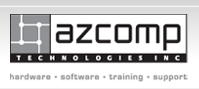 "While the rules and regulations of medical billing may be complex, we believe your medical billing software doesn't have to be." AZCOMP Technologies Inc.
Phoenix-Mesa, AZ; San Antonio, TX; Houston, TX; Philadelphia, PA; Chicago, IL (PRWEB) October 05, 2012
AZCOMP Technologies Inc has recently released a statement regarding its distributive license for the Medisoft V18 medical billing software. AZCOMP Technologies is now one of a few major distributors of the cutting-edge software, which allows healthcare professionals to streamline their electronic billing process. The technology is seen as one of the best ways to enhance the efficiency of healthcare billing systems. AZCOMP Technologies Inc has been the #1 distributor of this time-saving technology since 2005, and is pleased to continue this long-standing relationship with such a well-respected billing software application.
There are a number of upgrades to Medisoft V18 that make it an exceptional upgrade from the earlier versions. For example, the new V18 software allows users to do audit reporting and electronic transaction reporting, which was not offered on earlier releases. The new version also contains a number of revenue enhancements that were not available in the earlier versions of the software, or that have been upgraded since the last release. All in all, this new version has been developed in a way that makes electronic medical billing much more attainable for the average medical practitioner. This is especially true when the new integration capabilities are taken into account.
For example, the Medisoft V18 upgrade is now able to integrate with the very efficient Bill Flash statement processing. This saves you the trouble of having to manually print, fold, stuff, seal and mail a statement yourself. Bill Flash is such a popular 3rd party product for Medisoft users that McKesson integrated it right into Medisoft V18. The statements are of a high-quality, professional caliber that can be sent out with just a few clicks by staff.
AZCOMP Technologies Inc has been a trusted computer technology company for years. In 2000, the company used its considerable level of computer knowledge to enter into the world of modern medical software distribution. With its dedicated staff of seasoned technology professionals and training staff, AZCOMP Technologies Inc has become one of the top providers of medical software solutions around the globe. AZCOMP Technologies Inc is currently working with SEO Company PageViews.com in Scottsdale, AZ to increase outreach to medical billing companies and medical practices seeking quality medical software with phenomenal support.
For more information, please contact the helpful representatives at AZCOMP Technologies Inc at 1-888-799-4777 or visit their website at http://www.azcomp.com .