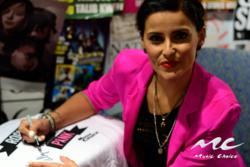 New York, NY (PRWEB) October 05, 2012
Music Choice kicked off a month long pro-social campaign promoting Breast Cancer Awareness Month this October called Rock Ur Pink. The campaign's goal is to promote awareness for breast cancer through Breastcancer.org, a nonprofit organization dedicated to providing the most reliable, complete, and up-to-date information about breast cancer.
Nelly Furtado appears in the :30 PSA that will run on all Music Choice platforms throughout the month of October including Video On Demand, Music Channels, online at http://www.MusicChoice.com and SWRV.
Additionally, videos from breast cancer survivors like Mellissa Etheridge, Sheryl Crow and Kylie Minogue appear in a special Rock Ur Pink category on MC On Demand. The folder also incorporates videos from artists who support the cause including Martina McBride and her inspirational video "I'm Gonna Love You Through It."
For additional information on Music Choice or to view the PSA, log on to http://www.musicchoice.com
###