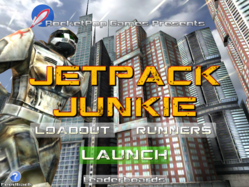 We are truly excited how many people are enjoying our game!- Stephen Wilkinson
Plano, TX (PRWEB) October 04, 2012
RocketPop Games recently released their new game Jetpack Junkie for iOS and the game community's response is in the numbers - 100,000 downloads in first 36 hours.
Stephen Wilkinson, Co-founder and game industry veteran says, "When we launched the game, the speed it flew up the charts worldwide just blew us away! We didn't imagine Junkie would get to top 20 around the world so fast and number 4 in Japan is awesome. We are truly excited how many people are enjoying our game!"
Can we expect any more from Jetpack Junkie? Stephen says, "Absolutely! We have some great new things in development, and we think both current and new players will really like it. Our beta team will be finished testing it very soon. The update will be available in the App Store in the next few weeks. Also, we are getting a lot of questions about an Android version and the answer is definitely yes."
Join RocketPop Games on Facebook to see screenshots, get development updates, and to communicate with our team. They would love to hear from you.
RocketPop Games LLC is located in Plano, Texas and develops software and games for a variety of mobile, console and PC platforms.