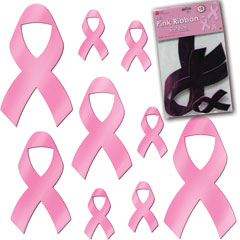 Chicago, IL (PRWEB) October 03, 2012
Show your support this month for Breast Cancer Awareness with the help of Windy City Novelties. With an entire pink ribbon event supplies section dedicated to the special month, Windy City Novelties recognizes the importance of Breast Cancer Awareness and encourages individuals to help support the cause.
According to nationalbreastcancer.org, "Breast cancer is a disease in which malignant cells form in the tissues of the breasts." It is the second most diagnosed cancer amongst women after skin cancer, which is why it is important to raise awareness to it. The website states that nearly 200,000 women are diagnosed each year. Breast cancer is also the second deadliest cancer, resulting in more deaths among women than any other type of cancer, other than lung cancer.
Although it is difficult to completely prevent breast cancer, there are ways to reduce risks. The National Breast Cancer Foundation's website insists that living a healthy lifestyle consisting of healthy eating and exercise habits help reduce the risk. The purpose of Breast Cancer Awareness Month is to inspire women to live healthier lives. It is also to inform women about breast cancer and to persuade them to get regular check-ups from their doctors to reduce the risk of obtaining the illness at an incurable stage. While the cancer is significantly more common in women, men can also be diagnosed, so men must also be aware of breast cancer.
Windy City Novelties encourages women and men everywhere to support this cause. Customers can help raise awareness with Pink Ribbon Event Supplies from Windy City Novelties. There are numerous events held for the awareness of breast cancer, such as walks, fundraisers and more. Windy City Novelties provides pink accessories that can be worn in support of the cause, such as pink ribbon necklaces, sashes, pink ribbon glasses, hats and so on. Lighting candles is a popular thing to do at events such as these, especially when placed inside pink ribbon luminary bags. Inspirational pens with sayings such as "courage", "join together" and "fight for the cure" are also great items to hand out at events to boost support.
Hosting a fundraising party is a great way to increase awareness, as well as to raise money to donate to the National Breast Cancer Foundation. Elegant pink paper goods and tablecloths, along with custom banners, can be used to decorate fundraising events and parties. Pink ribbon balloons mixed in with plain pink balloons are a great additive to any breast cancer awareness event. So, support this great cause this year with the help of Windy City Novelties' pink party supplies and decorations.
ABOUT WINDY CITY NOVELTIES
Windy City Novelties, a party supply company founded in 1983, is known for their great selection and competitively priced items. They have an A+ rating from the Better Business Bureau and are also a NexTag 5 star Seller. From their website, windycitynovelties.com, they offer fast and friendly shipping along with great customer service. From glow sticks in every color of the rainbow, to party decorations in a variety of themes, and even a vast selection of Halloween costumes at the best prices, Windy City has over 15,000 products and adds more each week.