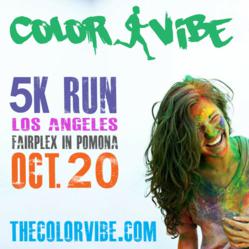 Can't wait for this run! I'm making my 60 year old dad do it too.
Pomona, CA (PRWEB) October 03, 2012
The Color Vibe 5k will be coming to the Fairplex in Pomona, CA on Saturday, October 20, 2012. An estimated 5,000 runners will finish the race after being completely transformed by vibrant color.
During the race route, participants run through 4 color stations. At each color station volunteers throw handfuls of colored corn starch on runners as they pass by. The finish line is where a colored dance party begins. A live DJ bumps the musical vibes, as professional photographers capture the colorful transformation of each runner.
As a non-competitive run, The Color Vibe 5k attracts runners of all different ages, fitness levels and experience.
An Idaho Falls race participant said, "I never wanted to do a 5k after my first one a few years ago. I am not a runner. This was perfect - no pressure. I saw it online and thought; wow, I could actually do this."
"Can't wait for this run! I'm making my 60 year old dad do it too," said a runner who will be participating in the Pomona run.
More information available at thecolorvibe.com. Register at https://colorvibe.pulsemob.com/event/los-angeles/
A portion of the proceeds will be donated to The Alzheimers Association.