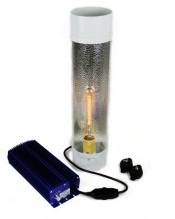 San Francisco (PRWEB) October 03, 2012
Grow box systems are powered by their lighting systems. Most grow boxes offer lighting choices from the 150 Watt range up to 1000 Watts. The greater the power of the light the larger a harvest can be expected. The brightness or the amount light is measured in lumens or foot candles. Lumens are the total number of light particles coming from the bulb itself and foot candles indicates the amount of light falling over a given area. The 400 Watt lighting system on sale this month with a HPS bulb boasts 52,000 lumens, the 600 Watt lighting system with the HPS bulbs boasts 92,000 lumens, and the 1000 Watt reigns supreme with 140,000 lumens.
Choosing which grow light system from the October promotion is easy. A 1000 Watt light system will cover a 5'x5' space effectively. A 600 Watt light can cover up to a 4'x4' space and a 400W can cover up to a 3'x3' area effectively. All of the grow light systems can be height adjusted which is crucial for proper plant growth. Light diminishes on a logarithmic scale so even a 3 inch difference in distance to the plant canopy can have a detrimental effect on the effective lumens for plant uptake. Check out the pricing and shipping for the grow box lighting system that will work best for you at http://www.supercloset.com/products-page/supplies.