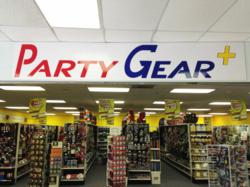 Our store location closed not due to downsizing but because our parent company decided they no longer wanted to be in a town our size. Not the economy, not anything like that, they just didn't want to be in our town.
Sulphur Springs, TX (PRWEB) October 03, 2012
Thad Gregory had been managing a Party City store in Sulphur Springs, TX for six years when he got word from corporate that they were closing. This did not sit well with Thad, "Our store location closed not due to downsizing but because our parent company decided they no longer wanted to be in a town our size. Not the economy, not anything like that, they just didn't want to be in our town." Further details behind specific closings were not made available by Party City. It was part of a series of closings which included all stores under 5,000 sq. ft.
Thad said he was determined to make sure the store remained open, but under another name; "I surveyed enough customers, talked to my wife, I think we can do this on our own, small scale, not that big. A friend of mine told me about [Discount Party Store Developers , we did the research and said 'yes we can do this.'" He decided that, instead of managing a party store, he would own one, Party Gear Plus.
The "Closed" sign was not up for a week when Thad replaced it with a "Coming Soon" sign. His first contact was Wayne Wrath, "It was great. I didn't get a pushy sales pitch, I was very comfortable talking to him, and since that time with little exception he's called me at least once a week."
Sam Croce was the financial advisor Thad worked with, "We needed 100% financing so Sam helped us out with that, told us how we would qualify, there were no let downs." He received all of the funding he needed for Party Gear Plus, and Discount Party Store Developers was able to negotiate a better deal with the landlord than Party City had before, "Without exception we have a better lease than what they had before."
Other areas where Thad credits Discount Party Store Developers includes their state-of-the-art POS system (which he mentions is easier to use and provides more information as well as better customer loyalty programs), and the ability to meet his customers' needs through Discount Party Store Developers' supplier network. He is able to adjust his inventory to better meet the needs of his community, where before everything was controlled through a corporate office that did not really understand the surrounding area.
When asked about the experience as a whole he commented that, "With change comes fear… I had a little apprehension about how that was going to go. I had confidence in myself for sure. I knew I could run the business from the front end, that was fine. I had some nerves about what kind of permits I would have to get, what's involved with the lease, etcetera, but that all went very smooth." Thad explained how the people at Discount Party Store Developers walked him through each step of the process to ensure he had a successful opening.
"A friend of mine told me about Discount Party Store Developers. I would recommend, if a person was going to open a store, that they take that next step if they are curious and ask questions because my wife and I have found everyone to be very patient," Thad added, "and my wife and I had A LOT of questions."
Party Gear Plus is located at 614 Bill Bradford Road Suite 9, Sulphur Springs, TX 75482, the same place locals and those in the surrounding small towns had been going for years to pick up their party supplies—where Party City had been located for about 25 years. Their hours are Monday thru Saturday from 9 a.m. to 7 p.m. and Sunday from 1 p.m. to 5 p.m.
Despite occupying the same space, it hasn't been business as usual. Locals get a bigger selection that is updated more frequently. The store looks better, and according to Thad, feels better because now instead of being a corporate branch that could be shut down if a chart printout said it could save a few bucks at the corporate level or be used as a tax write-off, employees have a sense of job security, and the community has a sense of pride that a little hometown store could succeed where the monolith, Party City, decided to head for the hills.
Discount Retail Store Services is a business development company helping entrepreneurs start a business by covering all of the core tasks including site location, lease negotiation, financing, build-out, business training, new store oversight, and ongoing wholesale support and marketing support. Opening nearly 3000 independently owned stores to-date, they specialize in six business models including dollar stores, clothing stores, teen stores, party stores, mail box stores, and fitness centers. Find out about upcoming news on Facebook.